What do you get when you combine honeycombs + mini ornaments? Why, these adorable mini-ornament cupcake toppers, of course! I found these tiny honeycomb picks, and with the addition of a gold card stock, brass wire and hex nuts from the hardware store – voila – pretty little ornaments. When the party's over, save them for next year by gently wiping off the toothpick with a damp paper cloth to clean, and store them safely out of harm's way in a metal tin.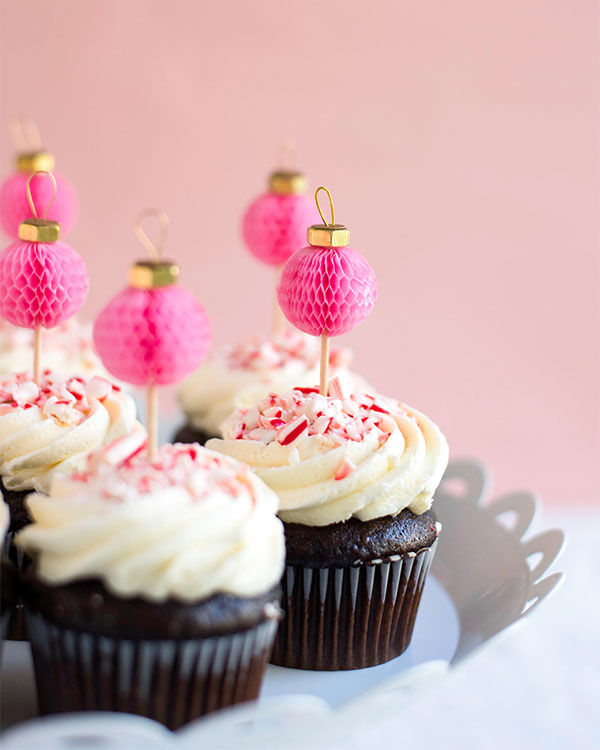 Materials needed: honeycomb picks, 1/4″ brass hex nuts, thin gold wire, hot glue gun, scissors, gold cardstock, needle.
Step 1: Cut out a tiny circle of gold cardstock to cover the top of the hex nut. Try to get your circle round, but no need to worry if it's not perfectly circular.
Step 2: With a needle, poke two sharp holes in the center of the cardstock circle.
Step 3: Cut a 1-inch piece of gold wire, and bend it in half.
Step 4: Stick each end of the wire into each of the holes in the cardstock.
Step 5: Apply a tiny dab of hot glue to the top of the hex nut, and then place the cardstock/wire combination on top of the nut.
Step 6: Apply a dollop of hot glue to the top of the honeycomb pick and place the hex nut/wire combo to the honeycomb. Pull away any stray strands of floating hot glue.
Photography by Tim Gibson