Surprise balls are some of my favorite things. If you aren't familiar with them they are balls of crepe paper wrapped up with 10 different tiny prizes inside. I love having them for kids or having one at each place setting for a dinner party. They are a really playful way to give little gifts. Today we're sharing a Snowman Surprise Ball!
We also thought they looked sweet just as a simple snowball so you could just do a series of snowballs. These turned out so cute I can't stand it!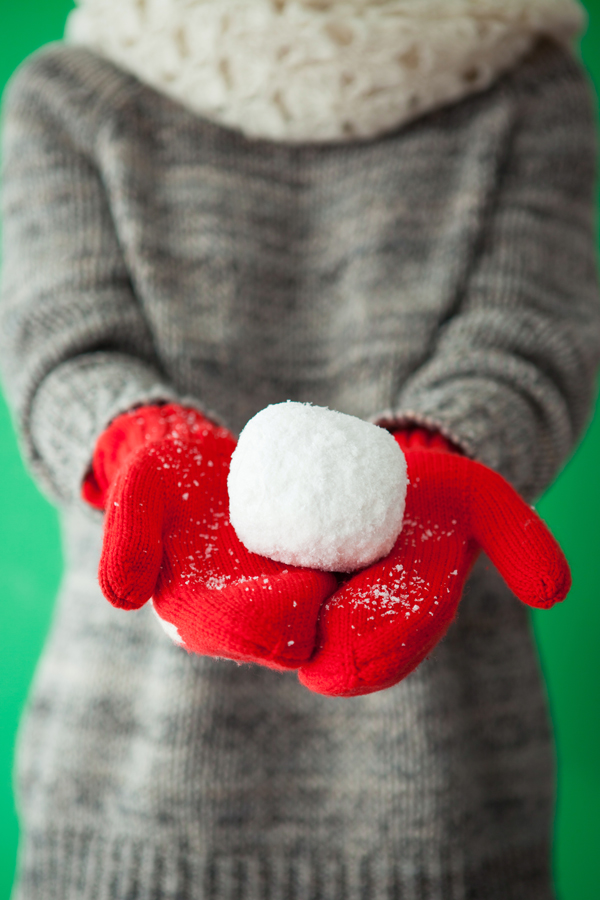 Snowball Surprise Ball
Materials needed: Crepe paper party streamers (in a bright color and white), tiny gifts (some smaller than others), scissors, Aleene's Quicky Dry Tacky Glue, washi tape, paper plates, artificial snow flakes, cardstock in black and orange, hot glue gun, twigs
Step 1: Gather a bunch of tiny gifts (bouncy ball, buttons, stickers, mini balloons, etc).
Step 2: Starting with the largest of the tiny gifts, begin wrapping your items in the brightly colored crepe paper streamer. Be sure to wrap each item completely before moving onto the next one to maintain the surprise element!
Step 3: Wrap the second largest item. Keep in mind that you'll want to end up with a round ball shape so be strategic when placing your items.
Step 4: Continue to wrap the remaining items into the streamer, creating a snowball shape in the process. If needed, add a bit of Aleene's to keep the crepe paper in place.
Step 5: Once you've wrapped your last gift, cut the streamer and secure with a dab of Aleene's. Place a piece of washi tape on the end the streamer to create a small tab for easy unwrapping.
Step 6: Wrap the colorful snowball in the white crepe paper streamer until the brightly colored interior is no longer visible. Cut the white streamer and add a dab of Aleene's to secure the end.
Step 7: Apply a thin layer of Aleene's onto the exterior of the snowball. Roll the snowball in a plate of faux snow until it is completely covered and let dry. Repeat until you have a hard outer shell.
Snowman Surprise Ball
Step 1: Make two surprise snowballs, one smaller than the other. Hot glue the smaller snowball on top of the larger one.
Step 2: Cut out a small, 1" circle out of orange cardstock. Cut out one-fourth of the circle and roll it into a cone shape. Attach the nose with a dab of glue to the smaller ball.
Step 3: To make the hat, start by cutting out a piece of black cardstock 1" by 2.5". Roll the rectangle into a tube and glue in place. Cut out two 2" rounds and glue to either end of the tube. Trim one end so that the edge is flush with the tube opening. Hot glue to your snowman's head.
Step 4: Cut off a set of small twigs for the snowman's arms and hot glue to the snowman's body. Tada! All done!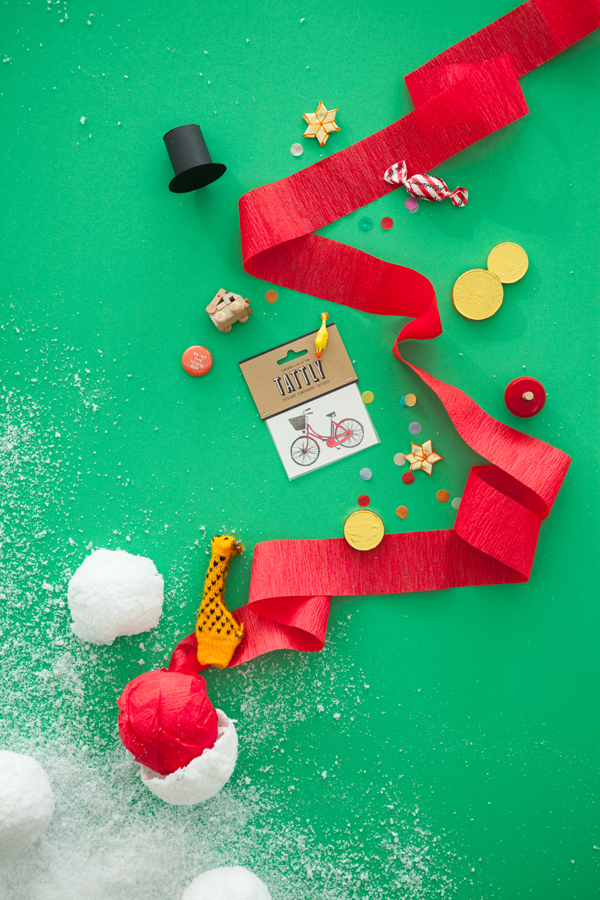 Photos & styling by Naomi Julia Satake
Crafting by Justine Pon