Oh, Open Shelving… so beautiful, yet so impractical. It can be hard to keep open shelving looking good unless you like like you are in a museum. We have open shelving in our new kitchen, so I thought I'd share a few tips I've learned from organization the shelves in our new home.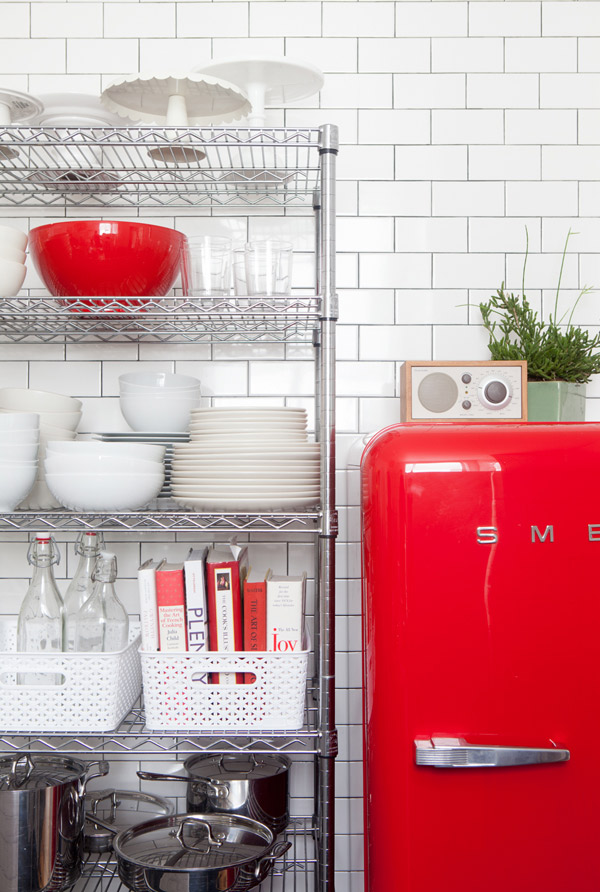 1. Edit, Edit, Edit. If you like the open shelving look get ready to put on your editor's hat. Time to get rid of everything that isn't beautiful and useful. Donate, sell, or gift all those extra things you don't need.
2. More is More. Now's the time to show off ALL your pretty dishes and kitchen supplies. Open shelves look best when they're filled up with pretty things, so pull out those shiny pots and pans, matching dishes, cake stands, cookbooks, colanders, & colorful mixing bowls.
3. Everything in It's Place. Once the items have been edited down, spend an hour or so experimenting with placing items on the shelf. Take a picture and even label things until you get used to it. There should be a place for everything and everything in it's place.
4. Catch-alls Make Perfect. It is impossible to keep your shelves looking good all the time. The key is to plan for it. When you have a busy week (or month!) a basket can hide some of the things that accumulate so your shelves still look good until you have time to get to it.
5. Show off Pretty Packaging. Certain items like olive oil get prime real estate on the counter top. If I know something is going to be sitting out it's worth the little extra to buy the stuff in the beautiful bottle.
6. Decant. When I unload my groceries I empty things like rice and cereal into clear containers. It not only makes it more beautiful to look at but easier to use and keep fresh too.
We used these boxes from Target in the kitchen and these and this in pantry. (I also really lovethese!)
This post is sponsored by Target.
Photos by Paul Ferney for Oh Happy Day