I have somehow amassed a large vintage ornament collection over the last 10-15 years. I had some questions about it in my stories and I thought I would do a post about where to find them and how to try not to spend all your money on them.
I love vintage glass ornaments. I first really noticed them in my twenties when I would go to the Alameda Flea Market several times a year. Usually in the Fall vendors pull out their "Christmas stock" but occasionally you'll see it during other times of the year as well. I think my first purchase was when I saw a big bin of neon pink ornaments. The bright color and worn texture was so special I ended up buying a big jar for about $20. I wasn't trying to start collecting vintage ornaments, and these weren't especially valuable or in good condition. I just saw them and loved them. When I decorated my tree that year I realized they were my favorite ornaments. I loved them more than some of my fancier ones I had bought.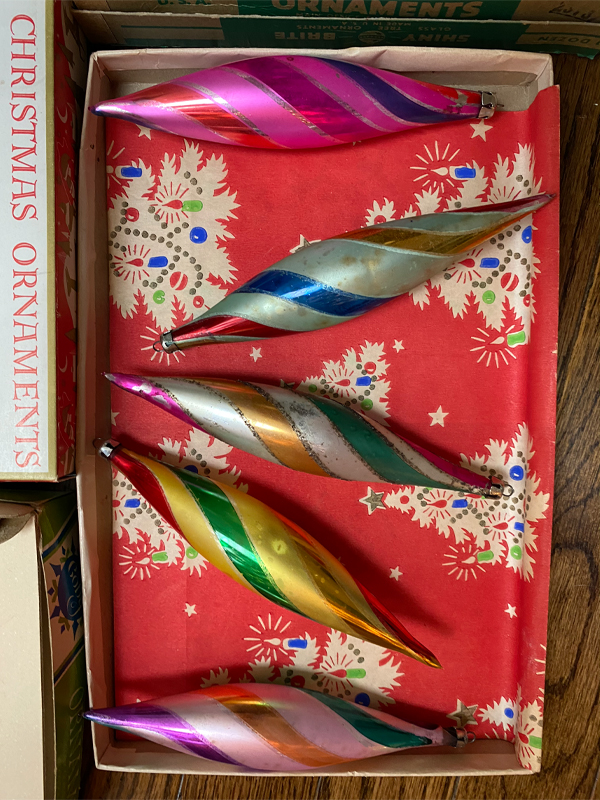 After that I would just casually add to my collection whenever I saw them at flea markets or thrift stores. It was just one of those things I always collected…like vintage globes. That is where I could find decent deals. I added to my collection when we moved to Paris and would go to flea markets in Europe (turns out they have so much old stuff.) It went on like this for probably about 10 years. At that point I had a decent collection, probably about 150 vintage ornaments and hadn't spent very much. Then a few years ago I went to antique mall in North Carolina and they had a big lot of vintage ornaments that were really well priced. I bought them out of almost everything they had and doubled the size of my collection to about 300.
My mom always changed the "look and feel" of our tree every few years and about three years ago I decided that instead of putting up my random collection of ornaments I was going to only buy vintage ornaments. I gave myself a budget of about $500 and I basically scoured Ebay and Etsy for several weeks looking for the prettiest ornaments and the best deals. I would search "vintage ornament lot" then I would "add to cart" all the good ones and spend a lot of time editing down based on price.
A few times I've seen a very special set in mint condition and I've splurged on it to round out my collection. This year my tree is 95% vintage and it's my favorite one I've ever had.
Do you collect vintage ornaments? I would love to hear how you've collected them.