Pampas grass has been cropping up everywhere the last couple of years, but did you know there's a faux version that comes in a range of colors? It's the perfect stand-in for pine boughs when it comes to holiday crafting, and bonus: no sap. This year we teamed up with Fiskars to create these frothy pink wreaths, sure to add a bit of fun whether you make a few for next-level place settings or just one for the mantle. Full instructions below AND don't miss out on our special GIVEAWAY!
To make these smaller scale wreaths, there's a bit of deconstructing involved to break down the larger pampas stems into the smaller fronds needed for this project. When working with any faux florals, you're likely to encounter a range of materials—anything from heavy gauge wire to paper, plastic or fabric and so it's handy to have wire cutters and a pair of sharp scissors on hand.
Once you have the basic wreath formed, you can wire on any decorative accents you'd like. We made holly springs by cutting detailed shapes from crepe paper (tiny scissors are surprisingly indispensable for this!). Mini glass ball ornaments make the perfect "berry" (some favorites here and here)—every year I pick up a box or two of mini ornaments to use for crafting, gift wrapping and decorating.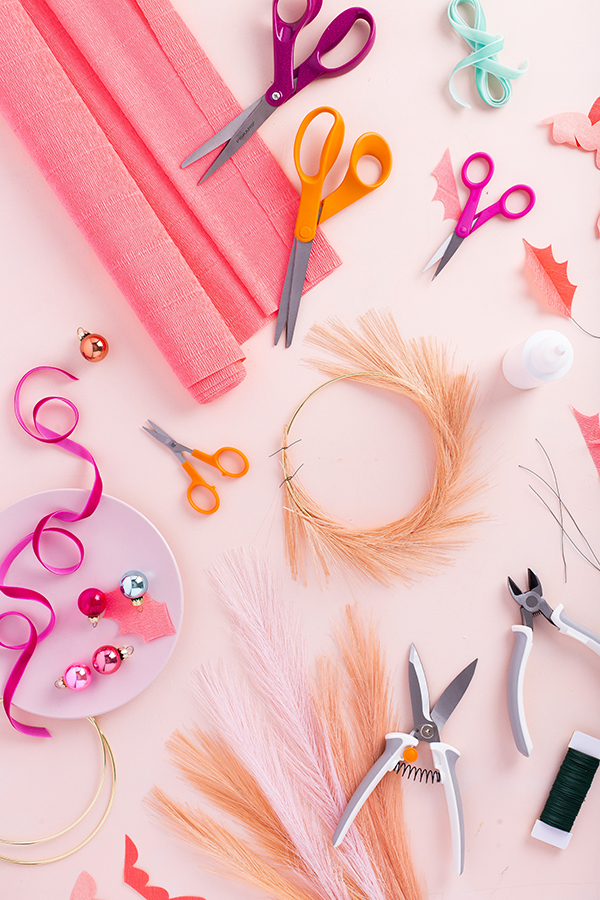 Materials needed: 6" brass ring, faux pampas grass (1-2 small stems per wreath), floral wire, glue, crepe paper, ribbon, mini ornaments, holly template, precision wire cutters, detail scissors
STEP 1: Deconstruct faux pampas frond using wire cutters to separate the individual fronds.
STEP 2: Secure bottom of frond to ring with floral wire and wrap frond around the brass ring twice.
STEP 3: Repeat Step 2, working your way around the ring. Continue until the wreath is complete. Tension should hold the fronds in place but for extra security you can add additional floral wire, at intervals, if desired.
STEP 4: Cut holly leaf halves from crepe paper, using small detail scissors. Use the template provided (or cut freehand). For the most realistic effect, cut the leaves so the grain of the crepe paper is at a 45 degree angle relative to the straight edge (center) of the leaf.
STEP 5: Cut a short length of floral wire and glue crepe paper leaf halves together, sandwiching the end of the floral wire between each piece. Repeat on the opposite end of the length of wire.
STEP 6: Wrap the double-ended holly leaf wire around the wreath to secure. Twist on an additional wired leaf if desired. Cut a length of velvet ribbon and thread a mini ornament halfway down the ribbon. Tie this around the wreath with a simple knot, concealing floral wire.
P.S. We are doing a GIVEAWAY with Fiskars to get you set up for all your holiday crafting! Head over to @ohhappyday for more details.
This post is sponsored by Fiskars.