One of my New Year's Resolutions this year was to throw elaborate dinner parties. Then of course everything changed with the pandemic. This Summer, when the governor permitted small gatherings we finally started hosting one or two friends over on our stoop outside.
It was probably all that pent up energy but our casual stoop hangs kept getting more and more over the top. We also learned a lot so it became really easy to throw together. Here are my tips for throwing a small but indulgent outdoor stoop party.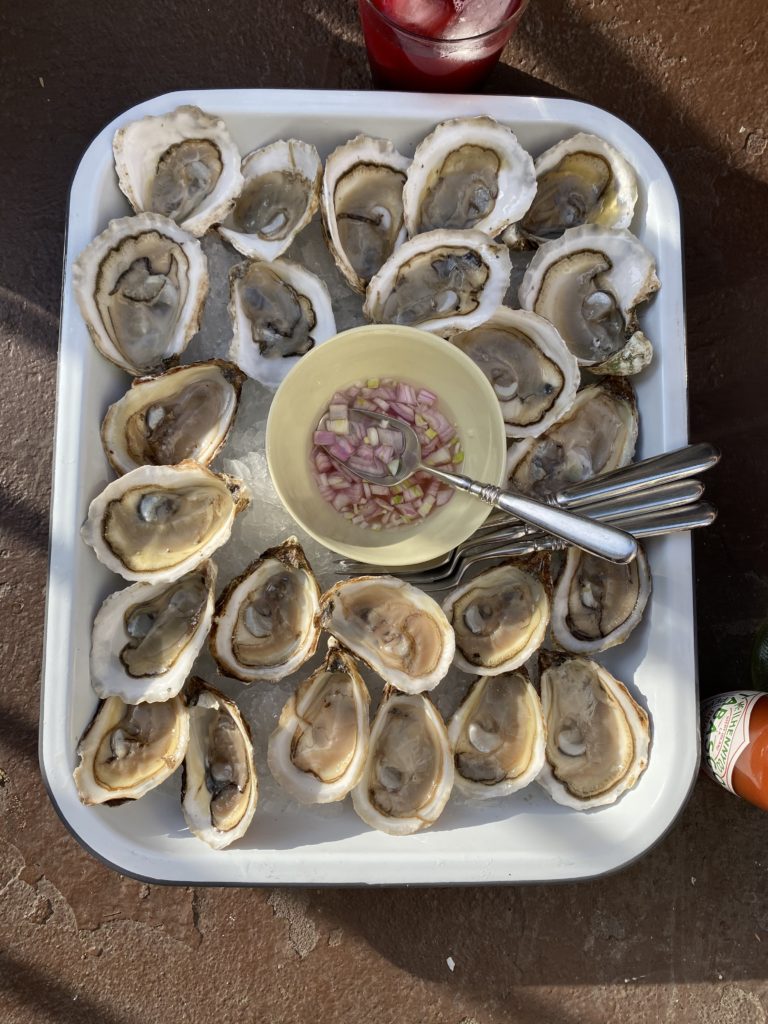 Be Prepared
I get anxiety around events so simplifying and preparing things ahead of time is key for me to have a good time. I usually make a menu in the morning and then make a quick trip around noon to the grocery store. I try to think of all the little things that are easy to forget (like water, serving spoons, extra napkins) and set them out in advance.
Drinks
We got really into making mixed drinks during quarantine (another post for another day) so this is one area where we like to have something special or homemade. If I know I have guests coming over, I'll make an infused vodka or something a few days before. We pick a few cocktails like a spritz and a Negroni to offer guests and make sure we have fresh garnishes on hand well as wine and beer. We always have one interesting non-alcoholic option for kids or nondrinkers. We keep sparkling water around so it's easy to just chill a few bottles of Pellegrino that we can bring down for water.
Assemble Food (don't cook)
I go through phases of things I enjoy serving but here are some of the types of things that are easy and work well for an outdoor spread. I probably wouldn't serve all of this. Just pick and choose 3-6 things depending on what I have.
Oysters. These seem fancy but are easy. I get them shucked at our local gourmet deli and they pack them on ice (I keep them in the fridge on ice–I also ask for extra crushed ice to keep in the freezer until it's time to serve them). I serve with shallots and champagne vinegar sauce and tabasco sauce.
Radishes. These are so crunchy and peppery. I keep stems on but wash really well and cut them in half. I serve in a colander with sea salt sprinkled on top.
Olives. I usually get the pitted kind for picnics just because its easier to deal with.
Crackers. At least one gluten-free kind.
Cheese. I just pick one kind of crowd pleasing cheese like Comte. I pre-cut the cheese (and make lots of jokes for my 10 year old) because it's a picnic and nobody has time to reach across and and struggle with a knife.
Charcuterie. I pick something a little spicy like Sopressata and get it cut at the deli.
Veggies. A nice pile of carrots cut in half (with a little stem on) look beautiful.
Blackberries or Cherries. I like serving a big bowl of these cold.
Dips. Something premade from the deli is nice to try with a cracker or veggie.
Nuts. Some pretty Marcona almonds are salty and delicious. Or seasoned nuts are easy to keep in the pantry.
There is some preparation with vegetables or getting the mignonette sauce ready–all of that I do in advance. But everything else can be prepared about 20-30 minutes before your guests arrive.
Presentation
This is where all those little dishes and pretty napkins I've been hoarding my whole life come out and serve their purpose. I have this breakfast in bed tray that I use as a small table. I like using lots of small trays so I can set up a spread at the top of the stoop and at the bottom of the stoop. (We bring down a few chairs so people can stay 6 feet away.)
As you can see most of this is about presentation and assembly (not cooking). We're always trying a new cocktail or making something special to add into our rotation. But I always remind myself that while it's nice to have a pretty spread, mostly people are just happy to have good company and something simple to snack on. I do have big plans to make a small custom table that would fit on the stairs. lol.
Would love to hear what kind of gatherings you've been throwing during this crazy time?