Tick tock, the countdown's on! Celebrate New Year's this year with these little clock favors – with hands that can actually move. Spin the clock hands to make time fly :). Happy New Year!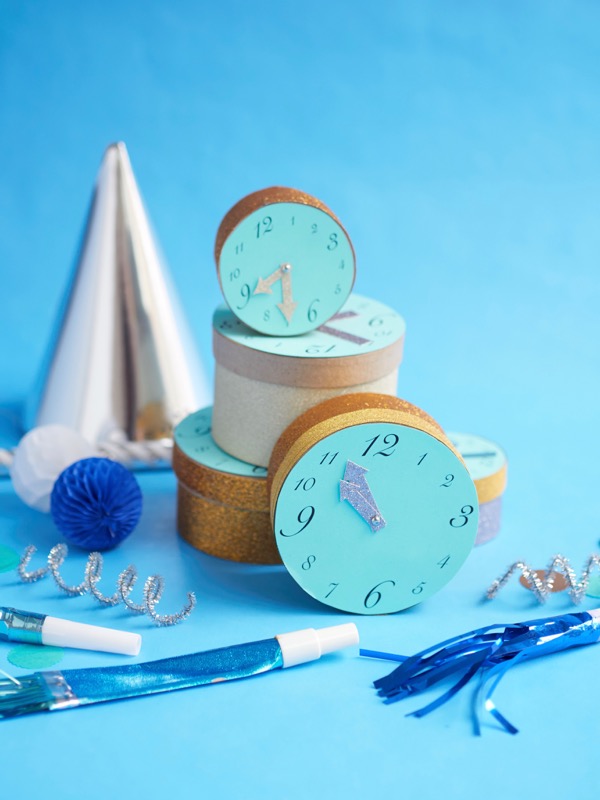 Materials needed: paper mache round boxes (2.5″ and 3.75″), Clock Favor Template, scissors, card stock, small sized metal fasteners, sparkly glitter paper, hot glue gun.
Step 1: Download and print out the Clock Favor Template onto colored card stock.
Step 2: Cut out the clock faces depending on the size favor boxes you are using, and glue them to the top of the boxes.
Step 3: Wrap the exterior of the boxes and the sides of the lid with gold paper, secure with hot glue.
Step 4: Cut out clock hands from sparkly card stock paper. They should be about ¾" inch long for the long hand, and 5/16" long for the short hand.
Step 5: Poke a hole with a thumbtack in the center of the lid, on the printed circle dot.
Step 6: Poke tiny holes in the ends of the clock hands, and slip the metal fastener through the hands and through the lid. Open the fastener on the back side of the lid to secure.
Step 7: Fill the boxes with treats and favors and let the countdown begin.
Photography by Benton Collins.