We've been talking about hosting an ornament-making party for the last few months. So, when Kettle Brand approached us about partnering together for the holidays, we knew exactly what to do! For this party, we focused mainly on clay ornaments (get our DIY below!) but any DIY-ornament tutorial will work. All you need are some crafting supplies, decorations, and snacks to get started.
Here's what you need to host your own holiday ornament-making party this year:
1) Choose a DIY and stock up on supplies. We've been wanting to make clay ornaments for a while… and then our crafter Karen introduced us to this lightweight clay. It's dries quickly without an oven and doesn't make a mess. Plus, it's inexpensive to purchase. For this whole party, we only needed a few supplies (so you can get a lot for all your friends!)
2) Get snacks! (Preferably food that doesn't require a lot of effort.) Kettle Brand chips are our favorite! They are delicious, everyone loves them, and they're easy to grab from any grocery store at the last minute. They have over 30 flavors so there's something for everyone. If you have more time, you can also try one of the chip-based recipes on their website (very intrigued by this Kettle Chip Chocolate Fudge!)
3) Put up some decorations (if you haven't already), start the Christmas music, and invite over all your friends! You're sure to have a great time.
How to Make Ice Cream Cone Ornaments
Materials: Model Magic Clay, mini eye hooks, paint, paintbrush, string
Step 1: Open the clay and begin to soften it by rolling it around in your hands.
Step 2: Create two 1" balls and one 1.5" ball, by rolling the clay in-between your hands. 
Step 3: Using one of the 1" balls, begin creating a cone like shape by rolling half of the sphere on the table using the palm of your hand. Once you've created a cone, use the surface of the table and flatten the top of your cone to create a flat surface for your ice cream. 
Step 4: Flatten part of the 1.5" ball and then attach it to the top of your cone to create your first scoop of ice cream. For a double scoop, add the second 1" ball on top. 
Step 5. Insert eye hooks into the top scoop. Depending on the thickness of the ice cream, it may take between 48-72 hours for clay to dry.
Step 6. Once dry, paint your ice cream cones your favorite colors. After the paint is completely dry, add a string to the eye hook and hang on your tree!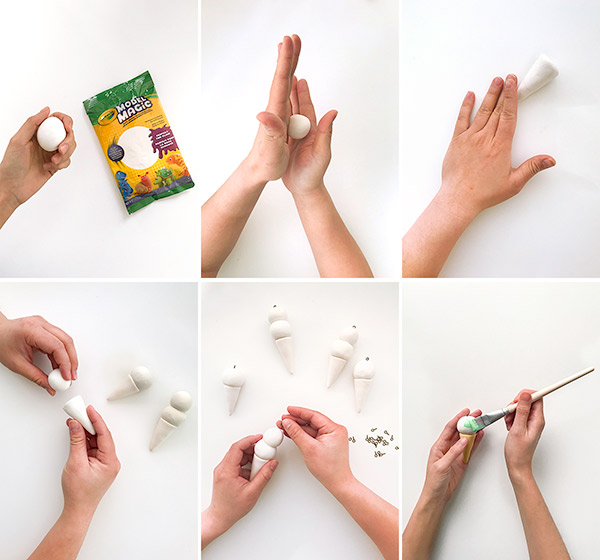 Crafting by Karen Chaw
This post is sponsored by Kettle Brand.