These holiday wreaths make any cupcakes look festive, and they cost mere pennies to make! A roll of streamers from the Party Store, scissors and some scraps of paper will get you started. Be sure to crank up the Holiday music before you get to it!
Materials needed: green and white streamers, craft glue, scissors, cake pop sticks, medium weight wire, wire cutters, confetti or a hole punch to make confetti, hot glue gun
Step 1: Cut a 10" piece of streamer, and then fold in half lengthwise to create a narrower strip. Fold up the strip and cut fringe into the side.
Step 2: Apply a line of glue along the non-fringed side.
Step 3: Take a 6" piece of wire and begin rolling the fringe around the wire, starting at the left side of the wire and rolling towards the right.
Step 4. Twist the wire into a circle and secure the ends together with a dab of hot glue.
Step 5: Empty out the chamber of your hole punch, if you have it. Otherwise punch out some paper "confetti" and glue it to various spots around the wreath. You could also use pre-made confetti if you wish.
Step 6: Affix a cake pop stick to the bottom of the wreath with hot glue. Fluff the wreath leaves with your fingers if needed.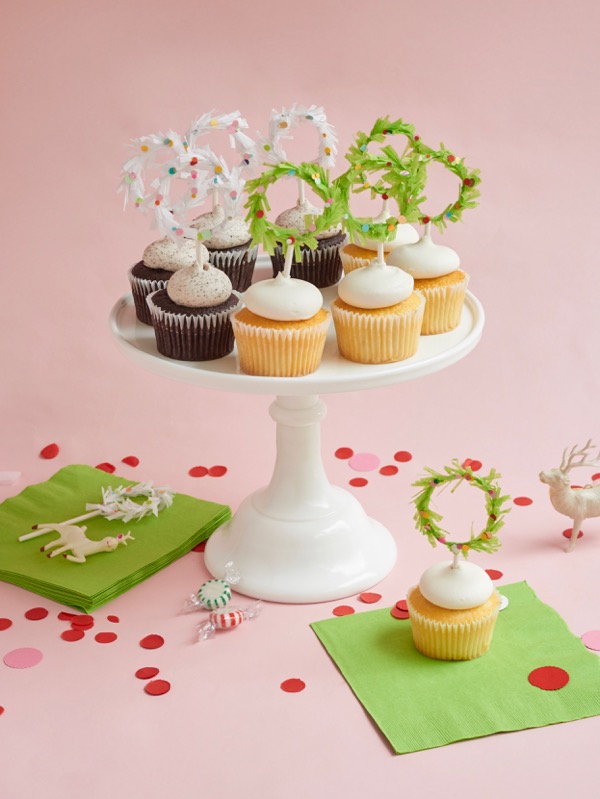 Photography by Benton Collins.