Wave a flag for the 4th! While you're at it, make it a Pixie Stick flag! These easy party treats can serve double-duty as a festive centerpiece on any picnic table. Don't want to put out sticks full of sugar? I don't blame you! Simply use red, white or blue paper straws instead of the Pixie Sticks!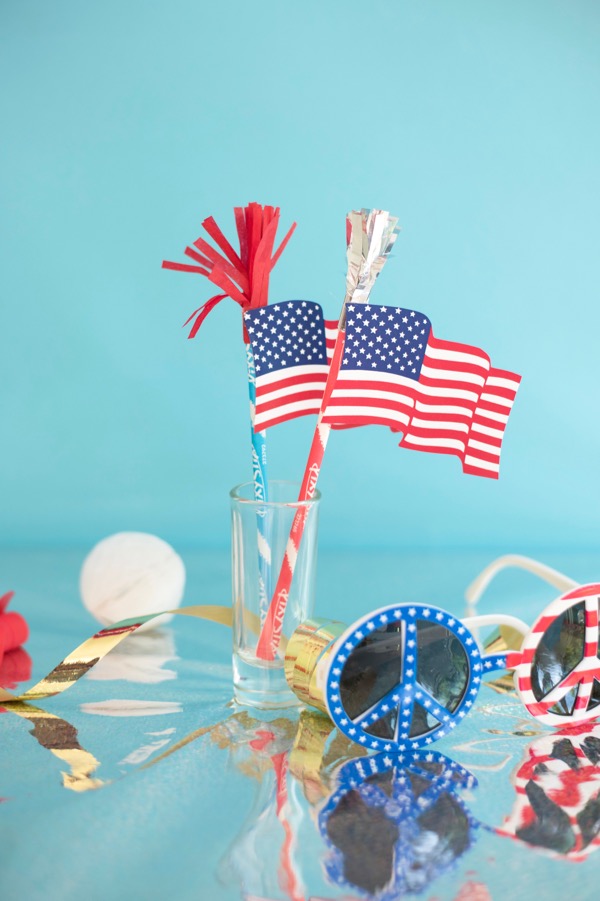 Materials needed: red and blue Pixie Sticks, American Flag Template, scissors, red and blue tissue paper, silver Mylar, double stick tape, hot glue gun.
Step 1: Download and print out the American Flag Template. (If you don't have a color printer, you can send it to Staples or your local copy center to print for you). Cut out the flags, cutting just inside the color so there are no white edges left around the flag.
Step 2: Take a 5" x 2" piece of tissue paper, fold in half lengthwise, and cut fringe into the short edge. Open up. Place a piece of double stick tape along the bottom of the fringe, and roll it around the top of the pixie stick.
Step 3: Using hot glue, attach the flags just below the tissue or Mylar fringe.
Photography by Tim Gibson