This might have been one of the most fun projects I have ever done! Buying all that pretty candy, arranging it in color order, stuffing little bags full of it – and occasionally popping a few in my mouth. This can be for St. Patrick's Day or for any Rainbow Party, really. Bonus points for crafting while Somewhere Over The Rainbow is playing.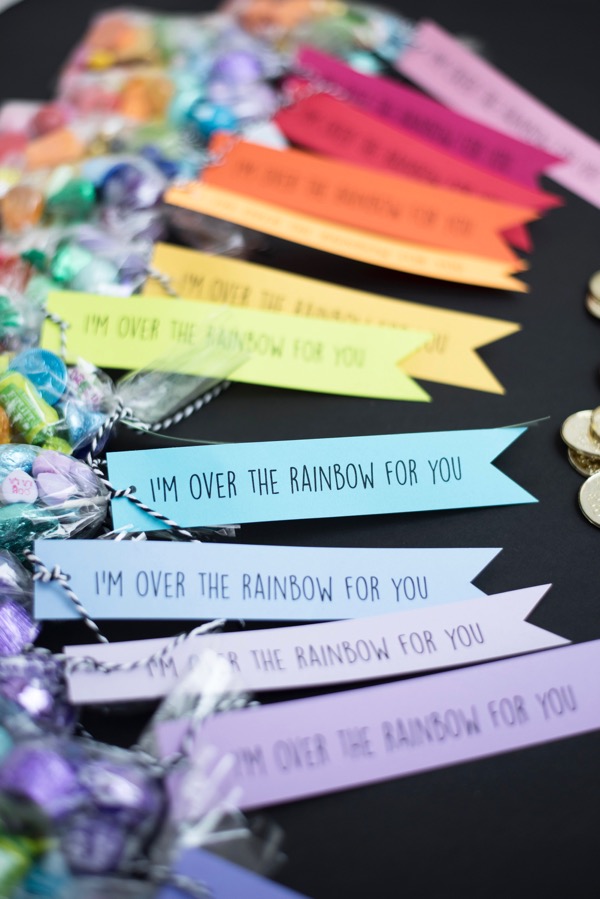 Materials needed: 3" x 8" cellophane bags, assortment of rainbow colored candies, baker's twine, scissors, Rainbow Favor Tags Template, rainbow colored paper, hole punch.
Step 1: Download and printout the Rainbow Favor Tags Template onto different rainbow color papers. Cut about ¼" inch around the letters, leaving an inch on the left and a few inches on the right. Cut a notch into the right side of the tag, and punch a hole in the left side.
Step 2: Fill the cellophane bags in a gradation of pinks and reds to purple candies. Pack the candy down as you fill the bag so there is less chance for the candies to shift out of order.
Step 3: Tie the candy bag closed, and attach the tag with baker's twine. When you display the bags, be sure to arrange them in rainbow order!
Photography by Tim Gibson