Whether you're still gearing up for the first day of school, or you're already a few weeks in, this apple treat is a sweet and simple little bit of happiness. Stick a long skinny candy (or two) in the balloon, and with a few puffs, you can give your kids an apple to say "Good Luck" or "Good Job!" Add a few little bits of confetti in the balloon (before you blow it up) for an extra burst of festivity.
Materials needed: red balloons, green cardstock, apple leaf template, scissors, hole punch, skinny candies (tootsie roll shape).
Step 1: Place a few long skinny candies into a deflated balloon. If you want, add some confetti, too. Inflate the balloon slightly, 'til it is about 5" or so. Tie the end.
Step 2: Print out the apple leaf from the downloadable leaf template. Cut out around the outline, and punch a hole near the stem side.
Step 3: Gently pull the tied end of the balloon through the hole punch. The weight of the candy should make the apple stand upright, with the leaf at the top.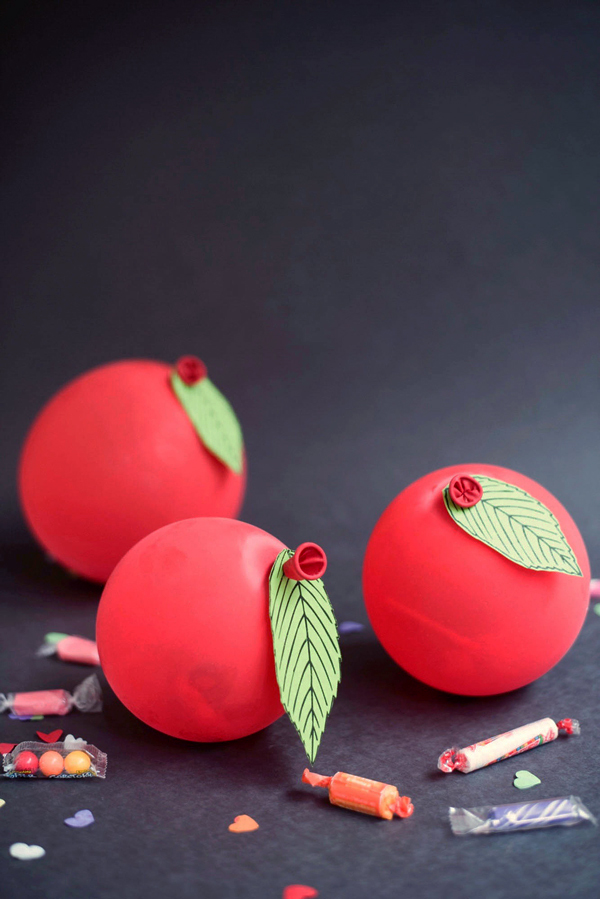 Photography by Tim Gibson