Why should humans be the only ones to dress up for Halloween? Dig out those random toy animals from the bottom of the toy bin, and dress them up in these miniature witches' hats. Set them up on a windowsill, mantle, or have them convene in the middle of your dining room table. Alternatively, dress up some simple cupcakes or muffins with them. Boo!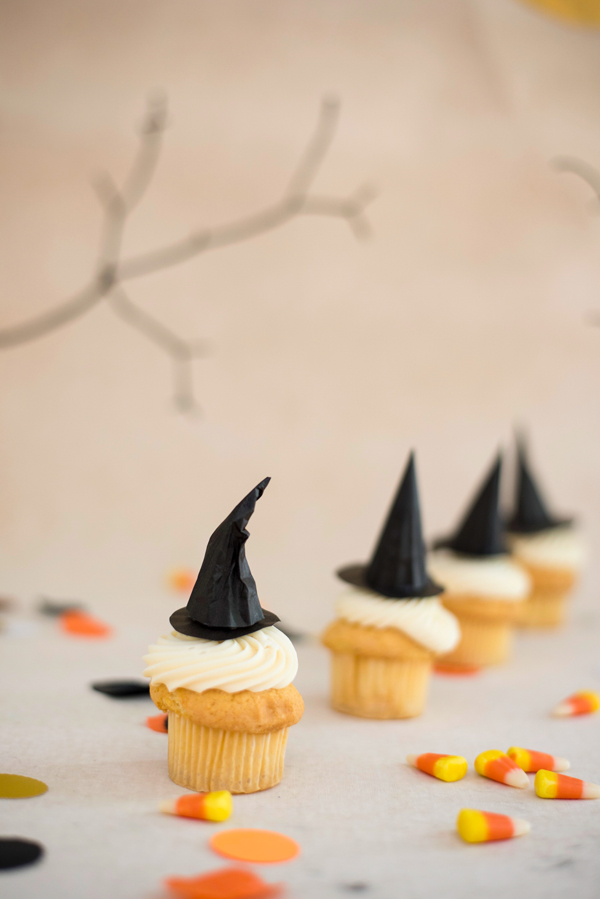 Materials needed: black cupcake liners, scissors, craft glue, hot glue gun, plastic toy animals about 5-7 inches in size.
Step 1: Flatten a black cupcake wrapper in half. Fold in half again to find where the point should be.
Step 2: Gently twist the wrapper, on your fingertip, into a hat shape and secure with a line of craft glue up the edge. Press firmly to seal. Let dry.
Step 3: Cut out the center circle of a cupcake liner (the bottom of the liner).
Step 4: Put a line of glue on the bottom edge of the cone.
Step 5: Place the cone in the center of the flat circle and gently press down to secure. Let dry.
Step 6: If needed, carefully trim the brim of the hat. Use hot glue to attach hats to animals. If there is an animal's ear in the way, you may need to poke open the base of the hat to get it to fit right. The hot glue should pop right off when you remove the hats come November.
Photography by Tim Gibson