Packaging is one of the most exciting parts of Halloween! Excite your friends this year by giving them one of these patterned, spooky poppers. These fun treat boxes are the perfect give-away for someone who's ready to be surprised.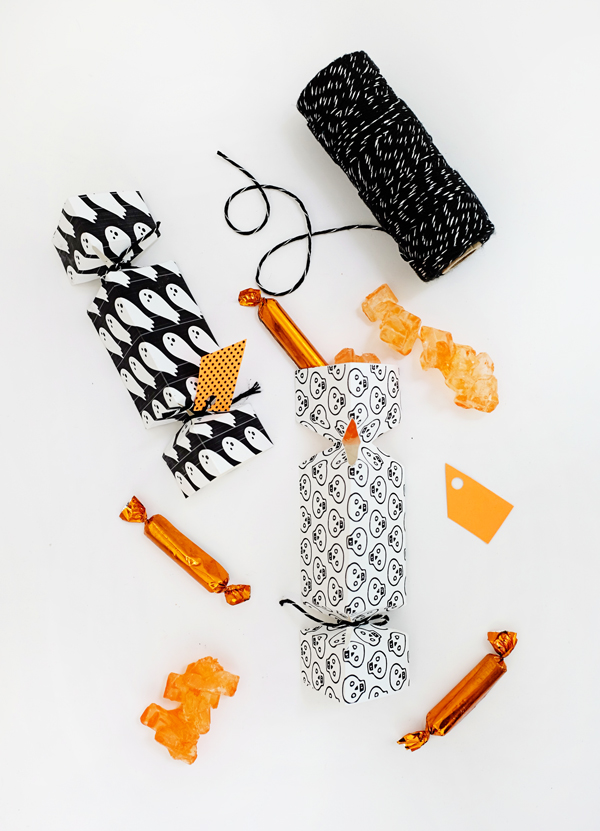 Materials: Printable spooky candy poppers, 8.5 x 11 card stock (white or any other color works), ruler,  craft knife, scissor (not pictured), glue, bone folder, string, candy.
Step 1: Print out the Printable spooky candy poppers on 8.5 x 11  card stock.
Step 2: With the bone folder, score all indicated fold lines on the popper.
Step 3: Fold all of the scored lines on the popper using the bone folder.
Step 4: Using the craft knife, cut out the popper template including the triangles in the center of the template.
Step 5: Glue the long rectangle flap and assemble the triangle shape by pressing it under the large side. Allow glue to dry. When the popper is assembled there will be overlap over one side of the triangle shapes. You can cut out the overlap with a kraft knife or scissors.
Step 6: Once the popper has dried, press the triangle cut-outs inward and tie off one side with pretty string or ribbon.
Step 7: Stuff your popper with candy and tie off the other side of the popper.
Step 8: Personalize your popper by adding a tag.
Happy Halloween!