This is a somewhat unconventional countdown, but I know some kids out there love Halloween just as much as Christmas or Hanukkah! You can slip a candy corn or two into the hats, some small Halloween stickers, or Halloween jokes folded up small. You might have noticed I only made 29 hats even though there are 31 days in October – because I ran out of black cupcake liners! Don't make the same mistake I did. But now that I think about it, you could also make a 10-day or 5-day countdown, which would be just as much fun!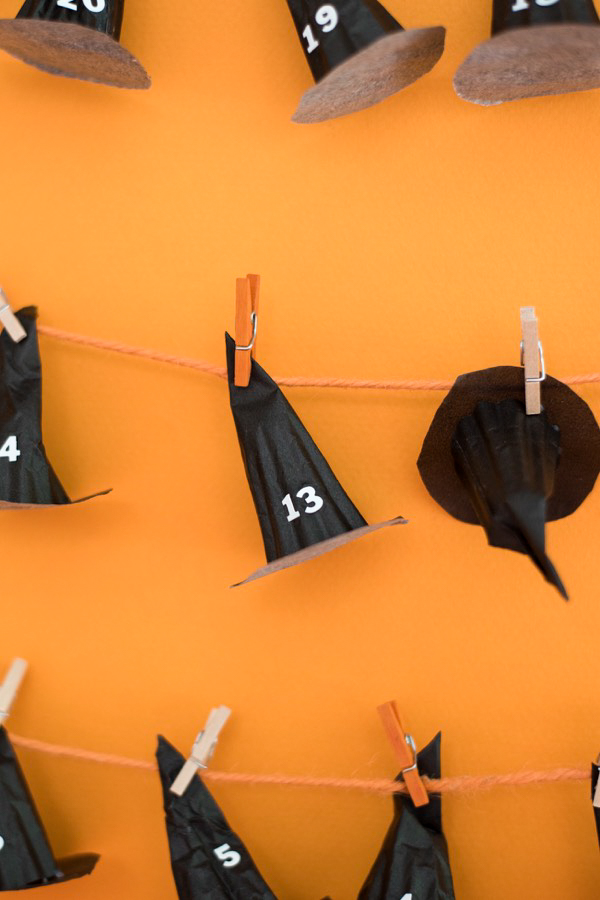 Materials needed: up to 60 black cupcake liners, scissors, craft glue, twine, miniature clothespins, ¼" white number stickers.
Step 1: Flatten a black cupcake wrapper in half. Fold in half again to find where the point should be.
Step 2: Gently twist the wrapper, on your fingertip, into a hat shape and secure with a line of craft glue up the edge. Press firmly to seal. Let dry.
Step 3: Cut out the center circle of a cupcake liner (the bottom of the liner).
Step 4: Put one or two candy corns, or a sticker, or a joke inside the cone of the hat.
Step 5: Put a line of glue on the bottom edge of the cone, taking care not to get glue on the treat inside.
Step 6: Place the cone in the center of the flat circle and gently press down to secure. Let dry.
Step 7: If needed, carefully trim the brim of the hat. If you want, gently crinkle the top of the hat to give it a little character. Repeat Steps 1-7 until you have 30 hats, or however many days you want to countdown.
Step 8: Apply the number stickers to the front of each hat.
Step 9: Cut a piece of twine or string, depending on if you want one long row of hats, or several rows of hats on top of each other. Pin or tape to a wall, then clip each hat in order using the mini clothespins.
Photography by Tim Gibson