Summer might be over but that doesn't mean my consumption of ice cream sandwiches has to be too. I love a good classic ice cream sandwich just as much as the next person, so I figured why not make a giant one out of cake to feed a large crowd and start a party? This is the perfect thing to pretend it's still summer (if you're not dealing with the 100 degree heat like I am). And even if you are, all the more reason to eat a slice (or two or three) of a giant ice cream sandwich!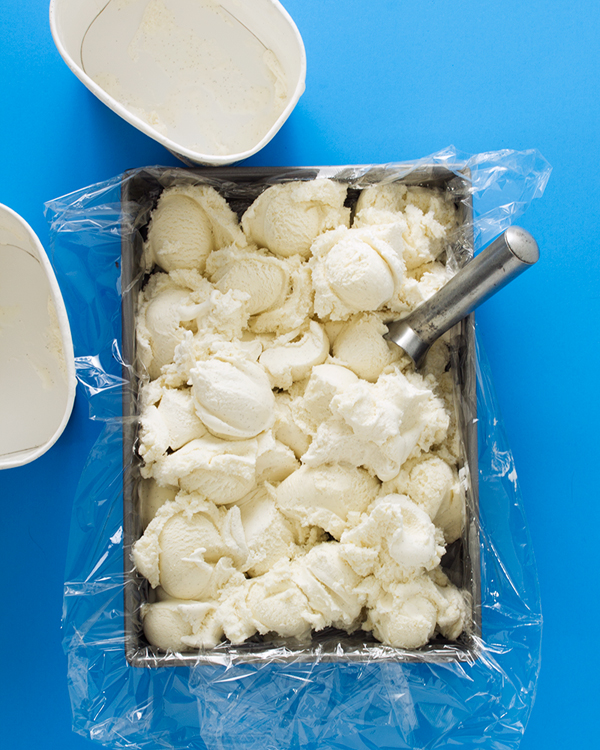 For the Ice Cream:
3.5 quarts (from 2 1.75qt containers) vanilla ice cream, softened
Line a 9×13″ baking pan with cling wrap and scoop out the ice cream into the pan. This helps it out with softening more if needed and makes it easier to spread out. If the ice cream still needs to soften let it sit for about 5 minutes then use an offset spatula to smooth it out evenly in the pan. Fold in the edges of the cling wrap and top with one more piece of cling wrap. Freeze for at least 3 hours, preferably 6 or overnight just to make it as frozen as possible, and easiest for you to work with.
For the Cake:
2 1/4 cups all purpose flour
1 3/4 cup white granulated sugar
1 cup cocoa powder, sifted
1 1/2 teaspoons baking soda
1 teaspoon kosher salt
1 teaspoon instant espresso powder
1 cup well shaken buttermilk
2/3 cup vegetable oil
3 large eggs
1 teaspoon vanilla extract
Preheat the oven to 350F and prep a 9×13″ baking sheet with non-stick cooking spray and a strip of parchment with overhang so you can lift the cake out of the pan easily.
In a large bowl whisk together the flour, sugar, cocoa powder, baking soda, salt, and espresso powder until it's nice and combined. In a large measuring cup, 3-4 cups is perfect, measure out the buttermilk, then the oil, then add the eggs and vanilla and beat with a fork until combined.
Add the wet ingredients to the dry and use a silicone spatula to mix everything together. Add half the batter to the prepared pan, sooth it out with an offset spatula, and bake for 18-20 minutes, or until a toothpick inserted comes out clean. If you have two pans then by all means bake up both pans, but if you're like me and only have one then cover the second half of cake batter with plastic wrap while the first cake is baking. Once that cake is baked let it cool for 10 minutes, transfer to a cooling rack, then prep the pan with the parchment and non-stick spray and bake the second half of the batter.
When that one's baked let it sit in the pan for 10 minutes before using the parchment handles to transfer it to a cooling rack and let the cakes cool completely.
When you're ready to assemble the cake, pick the prettier of the two and use the fatter end of a chopstick or a paintbrush handle, something along that size and poke holes in the cake, alternating rows of 4 then 3 holes with each row spaced about 1″ apart. It helps if your cake has been peeled away from the parchment then placed back on there. Once you have all the holes poked place an upside down white chocolate chip in each hole and gently push it into the cake.
Place the other cake onto whatever you're serving it on (I use the baking sheet flipped over) top down then carefully unwrap your ice cream and place that on top of the cake. If the edges need to be cleaned up use an offset spatula to smooth them out. To finish up the cake place the other layer of cake on top with the chocolate chips facing up and serve! If your ice cream is too soft or you still have time to kill then just place the cake in the freezer until you're ready to serve.