I don't think there will ever be a shortage of garlands to make for parties! When making the vintage-inspired springy paper garland and paper net garland, I had some scraps leftover and came up with this. Wouldn't it be fun to make this garland in rainbow colors?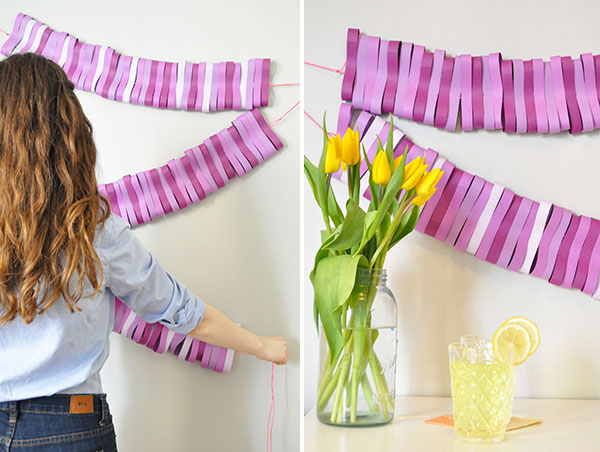 Supplies: Scrapbook paper*, scissors, string, hot glue gun
, straight edge cutter
Step 1: Cut your paper into long, thin strips – the ones pictured are 3/4″ x 12″.
Step 2: Hot glue the strips into circles.
Step 3: Apply hot glue to the inside seam of the circle.
Step 4: Pinch the circle so that it forms a figure eight.
Step 5: Repeat!
Step 6: Thread the loops onto two pieces of string.
Step 7: Tie the two strings together at the start and finish, leaving ends to hang the garland.
Step 8: Repeat. For all the garlands pictured, eight pieces of 12″ x 12″ paper were used.
*Note: Be sure not to choose a heavy-weight paper – it won't bend or curl as evenly as thinner scrapbook paper.