I almost just made a slideshow of back to school sweatpants. But in NYC our numbers have stayed low (fingers crossed) so it seems as if our kids will be starting school in some very modified form next month. So I figured I would put together my annual shopping list. If you're new here, I have a skillset/disease where I look and look for the the most perfect items. It's sometimes exhausting to live in my brain but the result is lots of curated items I can share.
My general shopping strategy tends to be affordable basics and neutral color palettes for clothes. Then we do more colorful items for accessories and shoes and backpacks. I splurge on good quality outerwear.
OUTFIT 1
A. Colorful beanies are a staple in our house. They really make the outfit. (I also love the Uniqlo cashmere beanies but they aren't out for the season yet.)
B. My boys have been dressing in this brown on brown tonal look. It looks so good! I've been buying pretty much everything I can get my hands on in this color.
C. I'm really picky about stripes and this one is solid.
D. Accidentally happened upon this colorful calendar and fell in love.
E. Fjallraven backpacks, overpriced but we still keep buying them.
F. I look for the slim fit chinos and but several. (My kids don't wear many jeans.)
G. I love Vejas. It's like the French version of the Converse.
OUTFIT 2
A. These are a MUST because half the time we're going to be doing distance learning. I prefer the zoom calls remain on headphones.
B. Go Sports! Do the thing that wins the point! This is my favorite basketball! (They also make soccer balls and pretty much everything else too!)
C. These are low maintenance no-wrinkle shirts. I love a nice button up on a little person.
D. I used to have a backpack JUST LIKE THIS. It still holds up.
E. This notepad comes with built in pencils!
F. More slim fit chinos. My kids roll them up with the no sock look.
G. Tie-dye socks. Cause its 2020 and they're having a moment.
H. Comfy sports shoes!
OUTFIT 3
A. Dennis the Menace vibez.
B. My kids have figured out whenever they wear these spinny hats people give them candy.
C. Darts! They seem safe, what could go wrong?
D. Cute lighting graphic tee!
E. This long sleeve shirt is great for layering and faded to perfection.
F. Shorts while the warm weather lasts.
G. I bought this hilarious nose pencil sharpener for my kids and they're obsessed.
H. My oldest kids are old enough to easily tie their shoes but I swear its sometimes nice to be able just have some slip ons for crazy mornings where you got to get out of the house quick.
OUTFIT 4
A. Chambray shirt!
B. We usually give our kids a pencil case with personalized pencils (see the next item) at breakfast on their first day of school.
C. Personalized Pencils are my favorite tradition. Here is my favorite source. (The website is annoying but they ship very quick!)
D. I discovered this tiffin brand while traveling in Thailand and bought one for each kid for lunch boxes. They're really great and stack easy and come in a ton of colors.
E. Quilted backpacks! These are so cool.
F. My kids have been super into chess so I bought this set and it is GORGEOUS! On sale!
G. I buy these slim fit pants in bulk.
H. My favorite alarm clock!
I. Classic high tops. They look so good with pretty much every outfit.
OUTFIT 5
A. Their friend Marlowe always shows up wearing this cool neon hat.
B. Remember before when I said I keep buying clothes in this color!
C. Hang Loose – I love a simple tee.
D. I like my backpacks colorful to distract from all the homework.
E. Our favorite water bottles.
F. I love how these pants hang–I got the kids a few pairs.
G. More tie-dye. More problems.
H. Birks! while the weather lasts.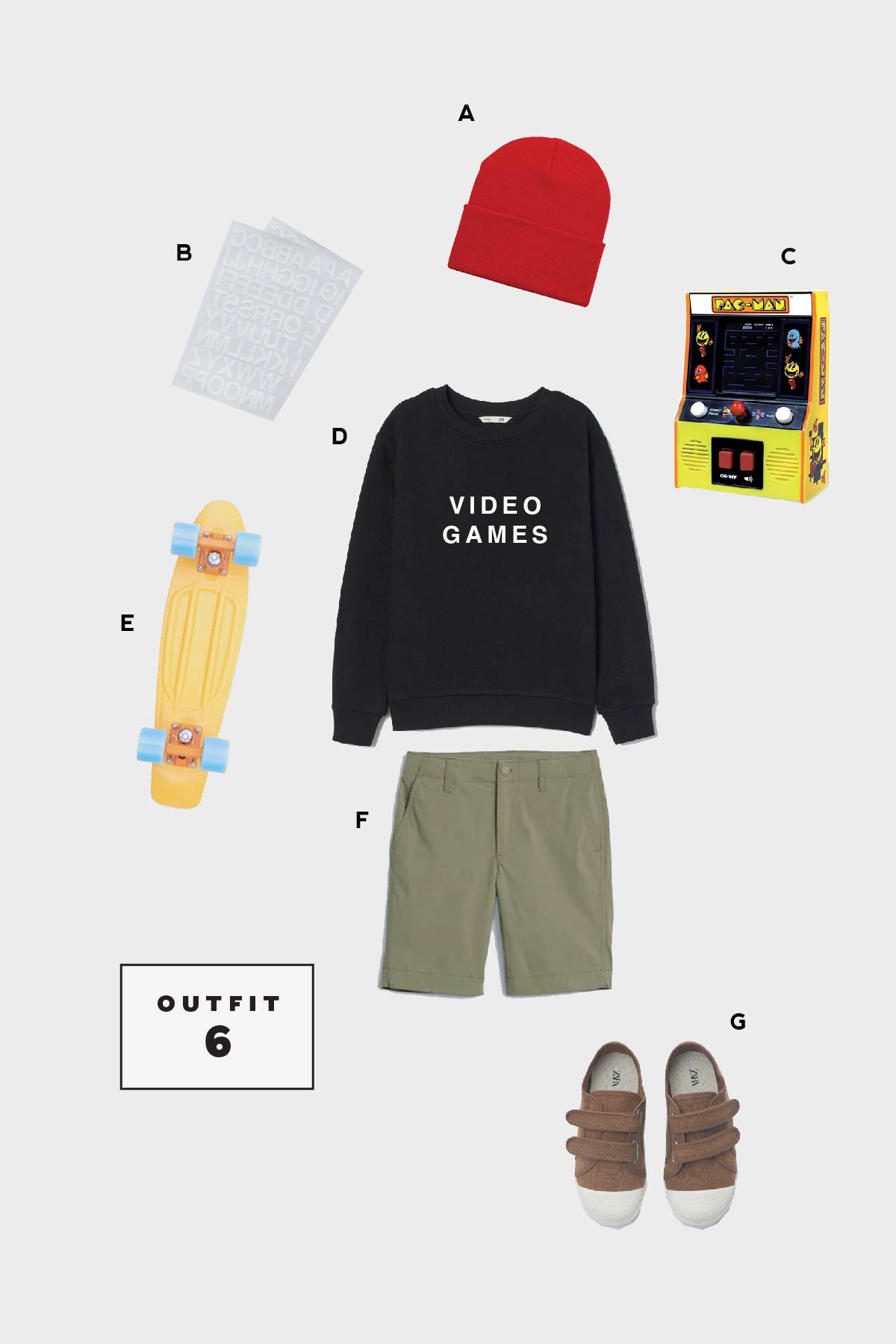 OUTFIT 6
A. I LOVE a red beanie.
B. Another back to school tradition we have is iron on letters. The kids get to pick what they want their sweatshirts to say. Mine is going to say GO JOE + KAMALA.
C. My kids love these vintage throw back games.
D. We usually buy a few basics like this for layering.
E. Penny Boards are so cute and come in so many good colors.
F. I've seen a bunch of brands make a waterproof-ish short. I really like them!
G. I love these simple velcro shoes.
OUTFIT 7
A. It's a SIGN!
B. I love shirts like this that are *slightly* fancier than a t shirt.
C. This backpack is a cutie.
D. Record Player – My kids have been collecting records. It's fun to go to the store to pick out a new one.
E. I love the cut of these plaid pants.
F. My kids JUST discovered Hamilton and this has been on repeat all summer.
G. Stan Smith Adidas are so cute. Love the velcro version for my youngest.
Stay tuned for Part Two.