It's Back to School time! Get out your Trapper Keeper and sharpen those pencils! Today we've put together three really fun ways to personalize Back to School. All of them are very simple and you can do these projects with your kids. (These work for grown-ups and college age kids too. Everyone here at Oh Happy Day wanted to recreate all three for themselves!)
PROJECT 1: Backpack Patches
If you're a design minded parent (like me!) it makes you die a little bit inside when you realize you might have to buy a Pokemon backpack (or whatever character du jour they are into.) What's worse is you're going to have to look at it for the next 9 months. These backpack patches are the perfect compromise. I went through Etsy and a bunch of sites with my kids and they got to pick all of their favorite patches (including a couple Pokemon and Avengers and Nintendo themed ones.) After they all arrived in the mail we sat down together and assembled them. It was really fun. The result is a very handsome backpack that my kids are stoked about.
Backpack Tips: If you search for "Patches" on Pinterest there are a lot of great indie shops with beautiful patches. We also had a lot of luck on Etsy and found a lot of affordable ones. Some of the patches ironed on perfectly but others were inconsistent (not sure if it was user error or the backpack fabric that was causing havoc). We found that this fabric glue worked great when we ran into problems.
Supplies: Backpacks (in so many colors), Fabric Glue, Iron, Patch Shops: These Are Things, Kodiak Milly, Simple Patches.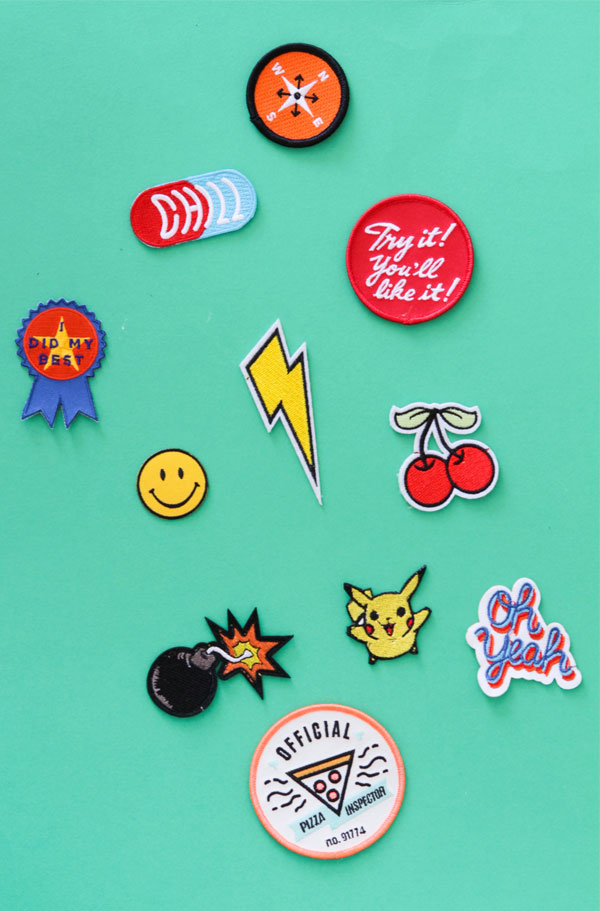 PROJECT 2: Personalized Pencils
I always surprise my kids with personalized pencils at breakfast on the first day of school. It's a fun little tradition and only costs $12 for a set! Usually I put things like "Super Moses" or "Ninja Roman." This year I ordered a bunch with different encouraging sayings (some for my kids and some to use as gifts for friends.) I always use Explicitly Yours Pencils which is fast and awesome and has a terrible user interface.
Personalized Pencil Tips: It looks like at the time of this going live their site is closed for a couple weeks but I always choose the San Serif font in Gold for the type. The pencil colors aren't clear when you order so you kind of have to guess but I love the mint color and the light pink and light blue are nice as well. FYI: They come unsharpened. Also: MUJI carries my favorite clear pencil case.
PROJECT 3: Iron on Letter Tees
This came about as I was shopping for cute back to school tees and realized the ones I liked were a bit pricey. I was reminded of all the iron-on tee days of my teenage years when I saw the Bando team go to Disneyland the other day and realized we could make our own for Back to School. I sat down with my kids and we brainstormed different T-shirt ideas.
T-Shirt Tips: These could not be easier. Choose the phrase you want to use. Lay the letters out centering them to the middle of the collar and Iron them on. So easy!
Supplies: Kids T-shirts or Sweatshirts, Iron & Iron On Letters