As Valentine's Day is getting closer and closer, we think about all we are on fire for: lots of color, a good meal, spending time with our partners in crime… Why not combine everything and have a romantic candle light dinner or throw an epic Galentine's Day party?! We're here to help you with the first step – crafting the perfect invitation for this occasion. Best thing is: you can download these hot notes as a printable, but also the ombre candles are quick to make.
Materials needed: tall narrow glass, pot, white candles, wax crayons in various colors, white cardstock, scissors, glue, tape, pen, flame printable
Step 1: Break one white candle into small pieces and put them in the glass. Add half of a wax crayon. (Start with a little color, as this will be easier to get the ombre look.)
Step 2: Heat everything in a water bath until it's all liquified.
Step 3: Immerse a new white candle several times to different depths and let it dry a few seconds in between. For example, dip 1/3 of the desired coverage the first time, then 2/3, then 3/3. Adjust these depths as you wish to create your own ombre effect.
Step 4: Print the flame printable, mix and match the flames as you like. Write your note on the card.
Step 5: Wrap the lower part of the card around the candle and seal it with a bit of colorful tape.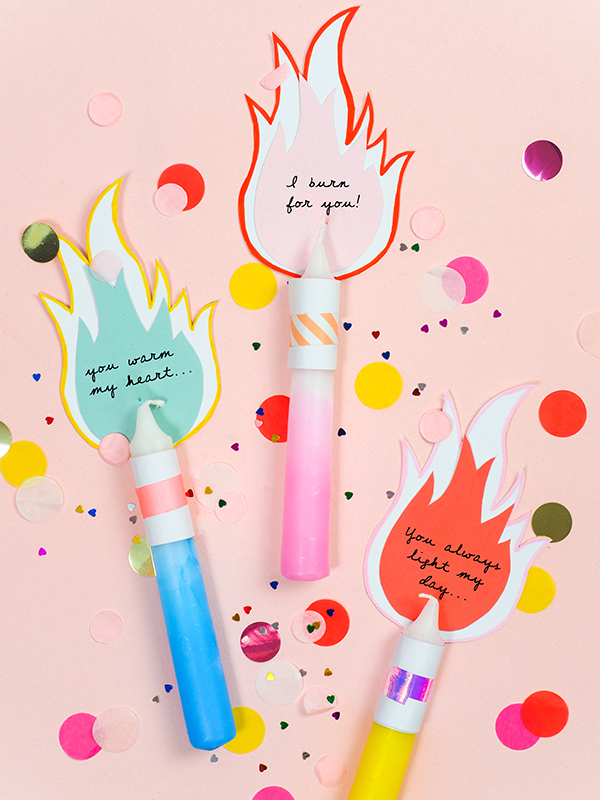 Crafting and photography by Julia Tramm – Studio Tong Tong.