Turn a simple cake into a real showstopper for a baby shower with this inexpensive dollar store creation. You can print out the downloadable "Oh Baby!" banner – or print or paint your own personalized message, if you wish. After the shower, pull out the skewers and give it to the mom-to-be – she can put in on the wall in baby's room!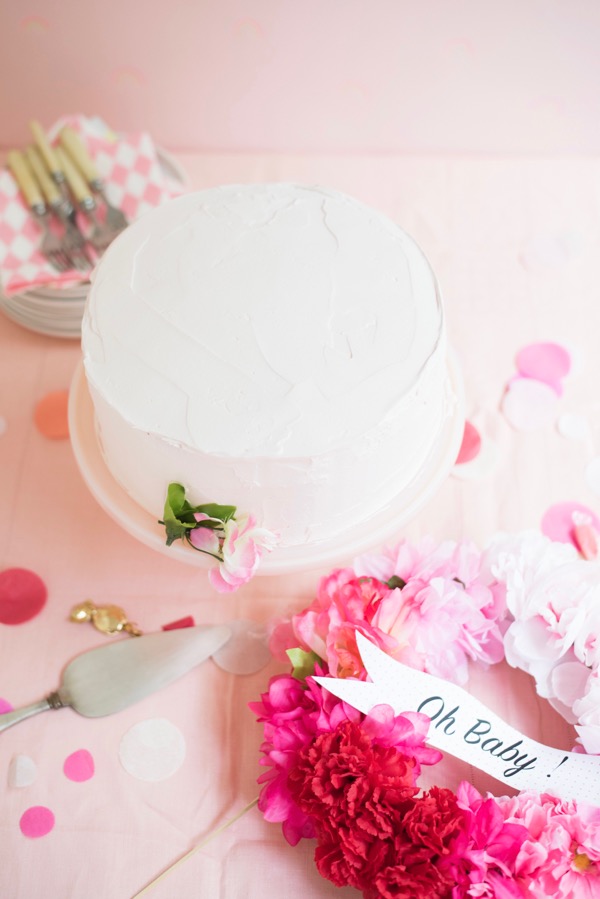 Materials needed: 8" foam wreath form, a variety of artificial flowers in varying shades of pinks and reds, two bamboo skewers, Oh Baby Banner Template, lightly patterned card stock or paper, wire cutters, scissors, hot glue gun.
Step 1: With the wire cutters, snip the blossoms off the stems of the flowers. Leave a ½ – 1 inch or so stem.
Step 2: Loosely arrange them in the order they will go (I did light to dark pinks), then begin placing them into the floral foam. I was able to just poke the plastic stem into the foam, but you could hot glue them on for extra security as well. Continue until the wreath form is completely covered.
Step 3: Download and print out the Oh Baby Banner Template. I printed this one on a sweet dotted cardstock, but you can print on any color or pattern you wish. Glue the banner across the wreath. Insert into your cake and enjoy!
Photography by Tim Gibson