Every year we try to go to the Berkeley marina for their annual Kite Festival in July, just east of San Francisco.  It's always super packed, but it's so worth it to see all the different colors and shapes flying together in the sky! And there's always someone showing off their stunt kite skills.  With summer quickly approaching, we made a giant kite centerpiece, perfect for a Kite Party. See full instructions below!
This centerpiece is so stunning, the kites look like they're mid-flight! You could even use it as a photobooth. Make a few kites on a stick (from the archives!) as favors for the kiddos to go with the theme.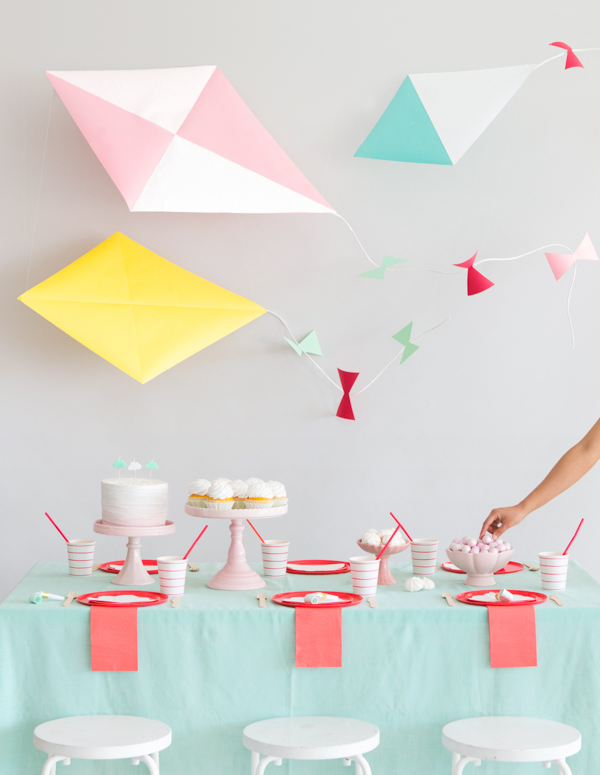 Materials Needed: 26" Savage seamless roll (in coral, canary, and baby blue), ruler, pencil, x-acto knife, butcher paper, glue stick, 1/4″ wooden dowels, hacksaw, hot glue gun, twisted paper cord (in white), thread, needle, gaffers tape
Step 1: Draw a kite shape onto the seamless paper. We made three different sizes with length and widths of 38" x 26 ¼", 32" x 20", and 24" x 16".
Step 2: Lightly score along the length and width lines with a pencil, then fold along the lines.
Step 3: For multi-colored kites, use the fold lines as your guide then cut white butcher paper to size and glue to the kite. We used two layers of butcher paper for a more opaque look.
Step 3: Measure and cut a dowel to fit the length of the kite and hot glue to secure. Then, measure and cut two pieces to span the width of the kite. Align these two smaller dowels so they are touching the center dowel and hot glue in place.
Step 4: For the kite tail, cut a piece of twisted paper cord and hot glue one end to the back of the kite. Cut triangular bows out of cardstock and hot glue them along the length of the cord.
Step 5: Thread a needle and insert near the top-most point of the kite. Repeat near the bottom-most point of the kite. Then, tie thread along two points of the kite tail. Attach the opposite ends of the threads to the ceiling with gaffers tape to hang.
Crafting by Justine Pon
Photography & Styling by Naomi Julia Satake
SHOP THE POST: Yellow tie-up dress, cakestand, cloud candle, red plate, red napkin (coming soon!), red stripe cup, birch cutlery, cloud napkin