These favors are not full of hot air – just a fleet of bright and colorful hot air balloons carrying cute little baskets of jelly beans, or any other tiny treat you want. Up, up and away!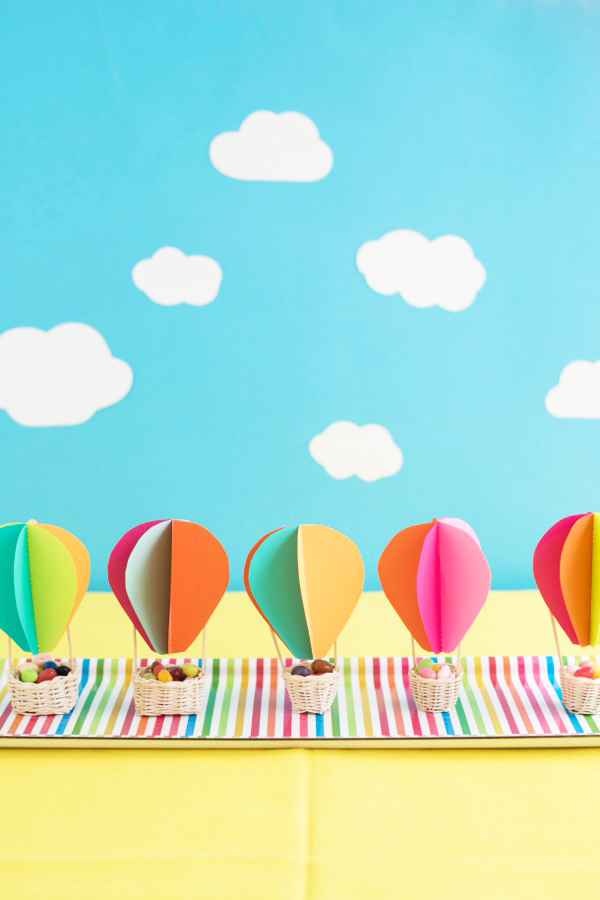 Materials needed: different shades of brightly colored cardstock, Hot Air BalloonTemplate, scissors, mini baskets, hot glue gun, toothpicks, pencil, sewing machine.
Step 1: Print out and cut out the balloon from the Hot Air BalloonTemplate.
Step 2: Trace the balloon shape onto a piece of card stock, and cut out. Repeat with two or three other colors. If you want, you can stack the colors together, then cut out the balloon shape at once.
Step 3: Line up the balloon shapes and run them through the sewing machine with the stitches going directly down the center.
Step 4: Gently unfold and open up the balloon shape.
Step 5: Cut or break the handle off the mini basket shape. Insert two toothpicks into each side of the basket, where the handle used to be. If you want to make them a little stronger, a dab of hot glue will help secure the toothpicks to the baskets.
Step 6: With hot glue, attach the toothpicks to the balloon shape.
Step 7: Fill basket with jelly beans or other tiny treats.
Photography by Tim Gibson