Yesterday, we revealed our gilded take on the Oscars Watch party (complete with award envelope place settings!). The Academy Awards would be nothing without its coveted golden statuette, so today we're going to share how we recreated him for our latest piñata makeover! Read on to see how we did it.
If we learned anything from our Oh Happy Day 10th Birthday Party, it's that hitting a piñata in a fancy outfit is super fun — so encourage your guests to arrive in their best threads! Everyone knows the red carpet is the best part of the show!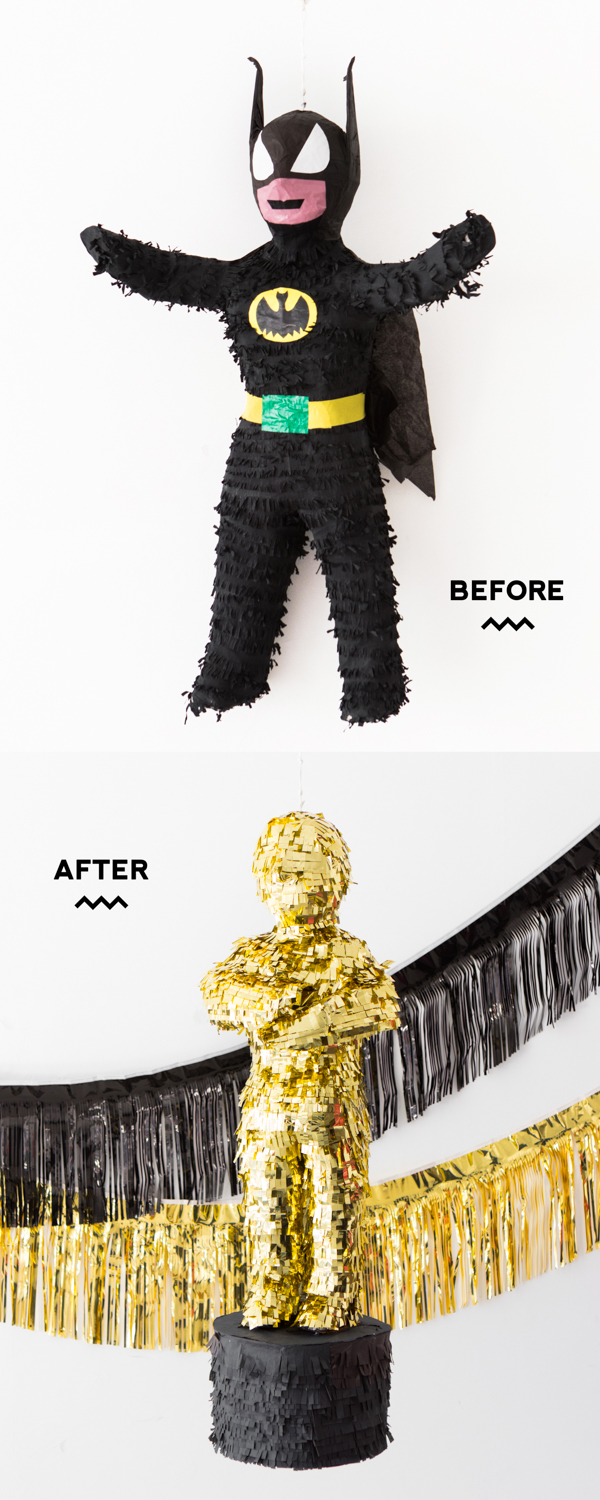 Materials Needed: Character Pinata, flour, water, newspaper, corrugated paper, hot glue gun, gaffers tape, white spray paint, gold mylar tissue paper, black tissue paper, scissors
Step 1: De-fringe the character pinata until you have a clean base.
Step 2: Cut the arms on the pinata at the base. Rearrange the arms across the chest to mimic the Oscars statue. Hot glue and tape the arms where needed. Hot glue the legs to bind them together, make sure to press together until they stay!
Step 3: Paper mache the side of the arms to even the surface out. Mix an equal amount of water and flour and dip strips of newspaper. Apply the newspaper to the side of statue until you have a smooth surface. Let dry.
Step 4: Spray paint the statue white, apply another layer if necessary.
Step 5: Cut fringe for your pinata using gold mylar tissue paper. The size of the fringe was about 2" tall and 1mm wide.
Step 6: Fringe the pinata in gold, starting from the bottom.
Step 7: For the statue's base, create two 1' cardboard rounds. Attach the two circles with corrugated paper and a hot glue gun to make a drum.
Step 8: Cover the top and bottom of the drum with black tissue paper and fringe the sides in black fringe.
Step 9: Using a hot glue gun, attached the pinata to the black drum base. You're all done!
Crafting by Erica Kjos
Photography & Styling by Naomi Julia Satake
SHOP THIS POST: Noir party plates, paper linen black tablecloth, fringe garland, award statuettes