Oh Happy Day turned 10 years old this year and we had  BIG PARTY to celebrate. It feels crazy that this little blog I started could grow to be a part-time job, full-time job, a career and now a team of 10 full-time employees as well as a slew of fantastic freelancers and consultants. Part of me can't figure out how we got here and part of me remembers how much work its been every step of the way. I am really glad we took the time to celebrate and look back at where we came from. It was really fun and a little cathartic.
Like I mentioned before we had planned on having a "nice little cocktail party" and before we knew it the party planning got a little out of control with three industrial confetti machines, a Geronimo Balloons installation and a bunch of over-the-top details. I was laughing that this is what happens when your team doesn't say "no" to you and instead says "A 10 person cake parade is a GREAT idea!" I've clearly surrounded myself with the right people. My goal was to have some sort of surprise every 20-30 minutes during the party. Today I'm going to share some of the details.
First guests walked up to the new Oh Happy Day studio in the Mission to see this epic Geronimo Balloons installation hanging off the building. (I wrote a separate post about it right here.) The balloons made the whole party feel legit and added such a special gravitas to the whole night. Then guests walked up the rainbow staircase into our studio. We had someone checking people in and then we presented everyone with a handmade party hat.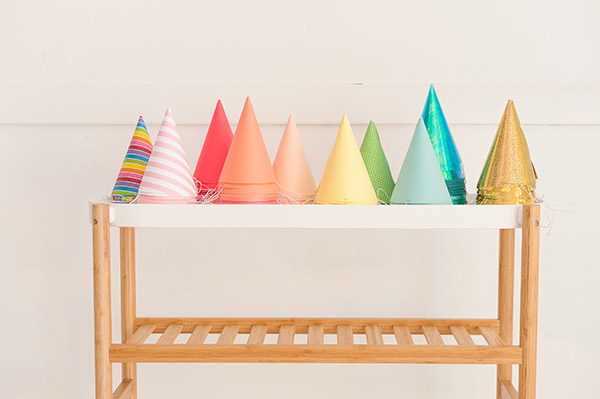 Our gorgeous flowers were by Kiana at Tulipina! They were ridiculously gorgeous. Here they are in our kitchen getting some water before the party.
The drinks were done by Rye on the Road. They were really pretty and fun drinks. They were served in these vintage cups we rented from Frances Lane. We made a bunch of different drink stirrers to top them off. It was like a party in a cup. (Here is the post with the DIY for the drink stirrers.)
For food we hired my friend Tom Call to make some hors d'oeuvres for us. Tom is a fancy chef that I've known for about ten years and he recently moved back to the Bay Area. It was so great to work with him again on this special event. We put a lot of thought into the presentation of the food. Tom made three kinds of passed hors d'oeuvres and we collaborated to come up with cute ways to present it: roasted heirloom grapes served with cheese and pistachios in  party hats, tiny pork belly sliders served in miniature big mac containers, and savory ice cream cones filled with smoked wild salmon and some wasabi infused tabiko.
For serving we borrowed these amazing carrying platters made by Leah Rosenberg. We painted them and added some pretty honeycombs from the Oh Happy Day Party Shop. The savory ice cream cones were served in a custom tray that was drilled and painted.
Guests arrived and started to eat and mingle when all of a sudden there was a break dancer. (We hired one to show up!) It was really funny.
The next surprise was we made a pinata for grown ups! What is a grown-up pinata you ask? We got our trusty unicorn pinata (RIP!) and filled it with amazing prizes from brands we've worked with over the years. Here are some the prizes: $500 Visa gift card and 4 Park Hopper passes to Disney parks sponsored by Alaska Airlines; 2 first class tickets on Alaska Airlines to anywhere in the United States; a $200 gift card to Chairish, an online marketplace for vintage furniture and decor; a $200 gift card to Unison, a shop that sells bold and unique home goods; a $200 gift card to Public Bikes, who make beautiful, functional, and stylish bicycles; a $100 gift card to Spoonflower, where you can design custom fabric, wallpaper, and gift wrap; a $100 gift card to Roostery, a home decor marketplace;  a $200 gift card to Modcloth, a clothing shop that carries unique clothing and decor; a $200 gift card to Lululemon, an athletic wear brand with a love for daily sweat; 4 $100 gift cards to Ikea, which has a wide selection of affordable home products; a $200 gift card to Minted, a design marketplace for stationary, art, and home goods; a $200 gift card to Petit Collage, a shop full of modern and sustainable children's toys and activities.  Plus we put in over $4000 in cash! When I got the idea for this I wasn't sure how this would go over. I thought maybe everyone would be "too cool" to get into it. But I was wrong. It was so fun. Everyone was elbowing each other and laughing. It was hilarious to see everyone getting into it. It was grown ups on the ground diving for prizes and cash like candy. It was one of my favorite parts of the party.
About 30 minutes later I gave a toast. Thanking everyone and thanking my team and Paul for sticking it out through the years. All of a sudden there was a mariachi band that appeared marching into the party followed by a cake parade. With ten people carrying TEN CAKES! Each one a different color. We paraded through the studio and got the guests to join in before coming together to light the candles and singing "Happy Birthday." As soon as we blew out the candles we dropped 800 balloons and triggered our industrial confetti cannons to drop 10 pounds of confetti on the crowd. IT WAS CRAZY and awesome. Alison (our managing editor) then gave the most beautiful toast that made me bawl!
The cakes were made by artist Leah Rosenberg. I'm a huge fan of everything she does. It was her idea to do ten cakes and carry them in as a processional. (She is a genius!) THere was a different color on the inside of each cake too! We had our shop manager Andrea's husband make the cake stands for us (thanks Anthony!) and we painted them and had Naomi our crafter add a bunch of frill and honeycombs to make them festive.
We served up the cake and turned down the lights a little and turned the music up so it felt more like a dance party. About 30 minutes later a Beyonce Flashmob from Dogpatch Dance came out and performed the dance from Countdown. From there the party devolved into a full on dance party with constant confetti drops (we refilled the canons and would fire them up again over and over.) The last surprise is we took some cash and put them in the confetti machines without telling anyone. When people realized it was raining money everyone was grabbing money. It was hilarious. My friend came up and was so stoked she got $16 dollars. Ha!
We stayed late dancing and finally shut it down after playing too many Beyonce and Robyn songs. We got home to discover there was confetti in our underwear. It was an epic night and seriously so fun. I'm so proud of my whole team for putting it together (shout out to Mercy and Andrea for planning and logistical details.)
We also had a photobooth from Photo Wee.
VENDORS: Balloon Installation by Geronimo Balloons, Flowers by Tulipina, Drinks by Rye on the Road, Vintage Barware Rentals by Frances Lane, Table Linens by La Tavola, Carrying Platters by Leah Rosenberg, Food by Tom Call, Cakes by Leah Rosenberg, Photobooth by Photo Wee, Beyonce Flashmob by Dogpatch Dance
Photos by Sabrina Bot and Paul Ferney for Oh Happy Day