I read somewhere that hundreds of years ago, the very first Christmas trees were decorated with edible food, like apples and gingerbread. Time to turn the tables, and decorate some delicious cupcakes with these non-edible trees. Layers of paper open to create a lovely 3-dimensional topper – scattered across a tray or cake stand, they create a pretty little forest. Happy Holidays!
Materials needed: different shades of green paper, copy weight and/or cover weight, scissors, hot glue gun, sewing machine, thread, toothpicks.
Step 1: Stack several layers of green paper and cut out a roughly 3" x 2" rectangle. The more layers you have, the more open folds in the tree. Make sure your sewing machine can handle the amount of layers you put through it. You can put more layers of copy paper than cover weight paper through a machine.
Step 2: Sew directly down the center of the stack with the sewing machine.
Step 3: Cut the sewn shape into a triangle, with the sewn line going directly up the middle.
Step 4: Cut the edges of the rectangle with scissors on each side in the shape of an evergreen tree, using the images below as reference. Trim any extra threads off.
Step 5: Gently open up the layers to create a 3-D shape.
Step 6: Using hot glue, attach a toothpick to the bottom of the tree.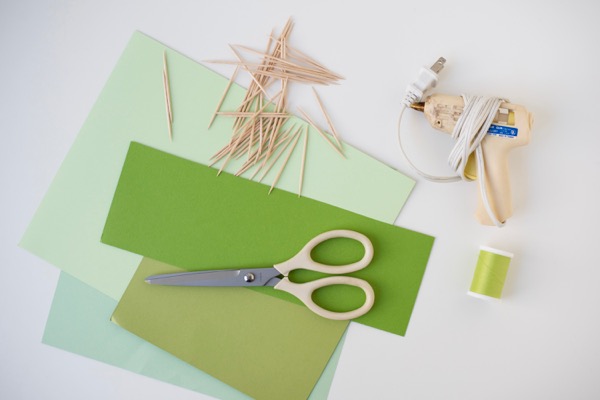 Photography by Tim Gibson