There's nothing corny about these surprise balls (except maybe that joke)! Place one on each Thanksgiving plate – or fill a bowl that doubles as a centerpiece – to unwrap while everyone's waiting for that turkey to finish cooking!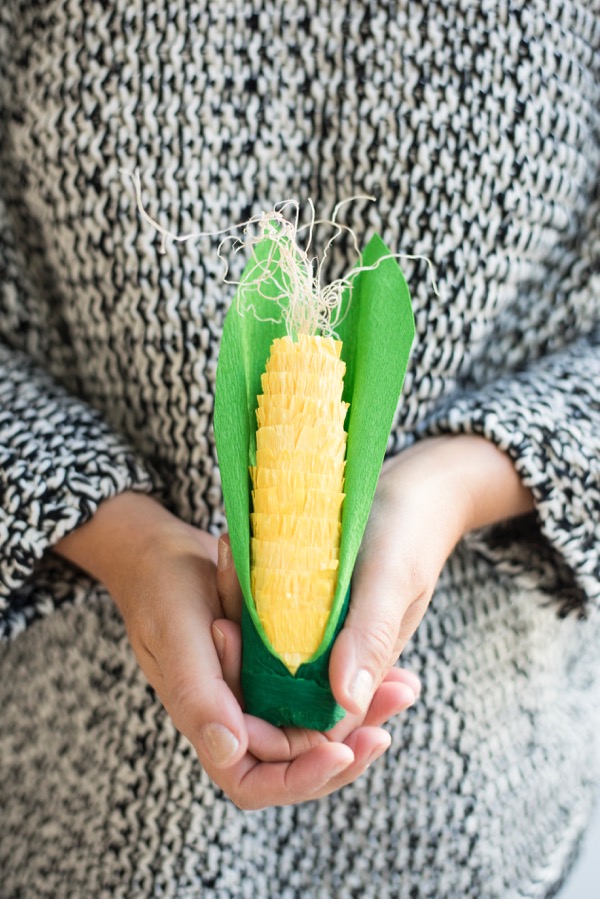 Materials needed: yellow crepe paper or streamers, green crepe paper sheets, natural colored excelsior, scissors, craft glue, small treats and trinkets to wrap inside.
Step 1: Begin wrapping the streamer around one of the treats. Continue wrapping and adding treats as you wrap, creating a rectangular "corn" shape. When you have a good size corn cob shape, secure the end with a little glue.
Step 2: Take approx. 48 inches of yellow streamer and fold in half, then half again, then half again. Cut this piece lengthwise so you have two thin strips.
Step 3: Cut fringe into one side of the strip, then unfold.
Step 4: Attach the end of the crepe paper strip to the back of the corn shape at the top, and begin wrapping it around the corn. Glue the other end when you reach the bottom.
Step 5: Cut a 4" x 6" (or slightly bigger or smaller depending on your corn size) rectangle of green crepe paper and cut the tops as shown in the image below.
Step 6: Glue the green husks onto the back of the corn, covering the back of the corn and partially the sides, but not the front. Fold up the bottom as if you were wrapping a present, and secure with glue. If it looks a little messy, take a small strip of green crepe paper and glue it around to neaten it. Attach a small bundle of excelsior at the top with craft glue.
Photography by Tim Gibson