Isn't there something so beautiful about billiards balls? Maybe we're biased because we can't say no to a good stripe, but they are just so classic! We decided to make a colorful riff on the classic billiards balls and make surprise balls! These are a great gift or party favor because you can fill them with all sorts of little toys or trinkets. Read on to see how we made them… Break!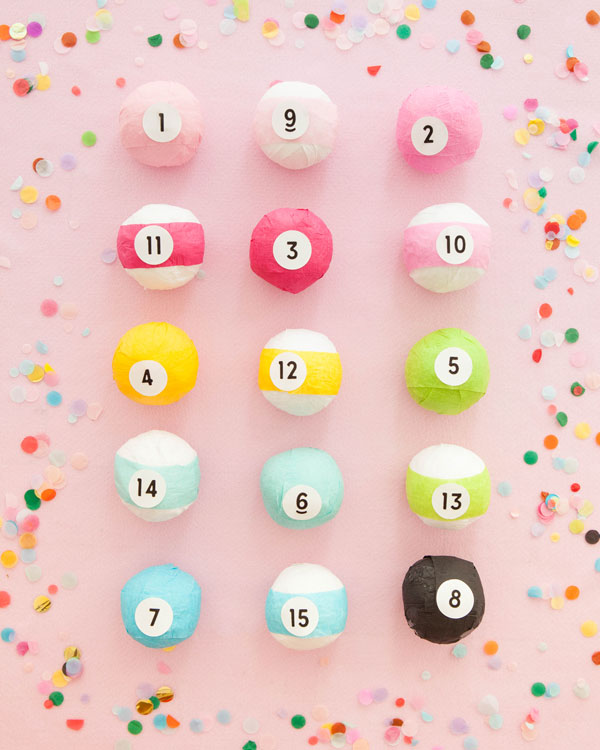 Materials needed: Crepe paper party streamers (in 7 different colors, white, and black), scissors, tiny gifts (in a range of small sizes), Aleene's Quick Dry Tacky Glue, full sheet label paper, 1 ½" circle punch, washi tape
Step 1: Gather a bunch of tiny gifts (bouncy balls, temporary tattoos, balloons, etc).
Step 2: Starting with the largest of the tiny gifts, begin wrapping your items in the crepe paper streamer. Use 7 different colors of crepe paper for each of the solid balls, white crepe paper for the striped ones, and black for the 8 ball. Wrap each item completely before moving onto the next one to maintain the element of surprise!
Step 3: Wrap the second largest item. You want to end up with a ball shape, so be strategic when placing your items.
Step 4: Wrap the remaining items into the streamer.
Step 5: Once you've wrapped your last gift, cut the streamer and secure with a dab of glue. Place a piece of washi tape on the end the streamer to create a small tab for easy unwrapping.
Step 6: For striped balls, add a band of colored crepe paper around the center of a white surprise ball and glue to secure.
Step 7: Choose a vintage san-serif font, then print numbers 1-15 onto a full sheet label paper. Space them out enough so you can use a 1 ½" hole punch to punch out each number.
Step 8: Attach a number sticker onto each billiard ball. Label the solid surprise ball numbers 1-7, the black one 8, and the striped ones 9-15. Make a rack from cardboard — and you're all set!
Crafting by Justine Pon