There's nothing quite like biting into a big, juicy, ripe peach.  Even though these peaches are inedible, they still call to mind the feelings of the simple joys of summer. Placed on a plate, they serve as place cards. Cluster them on a table and you could use them for table seating at a wedding – just add a number under the guest's name. Bonus if your event falls on August 24th – it's National Peach Day!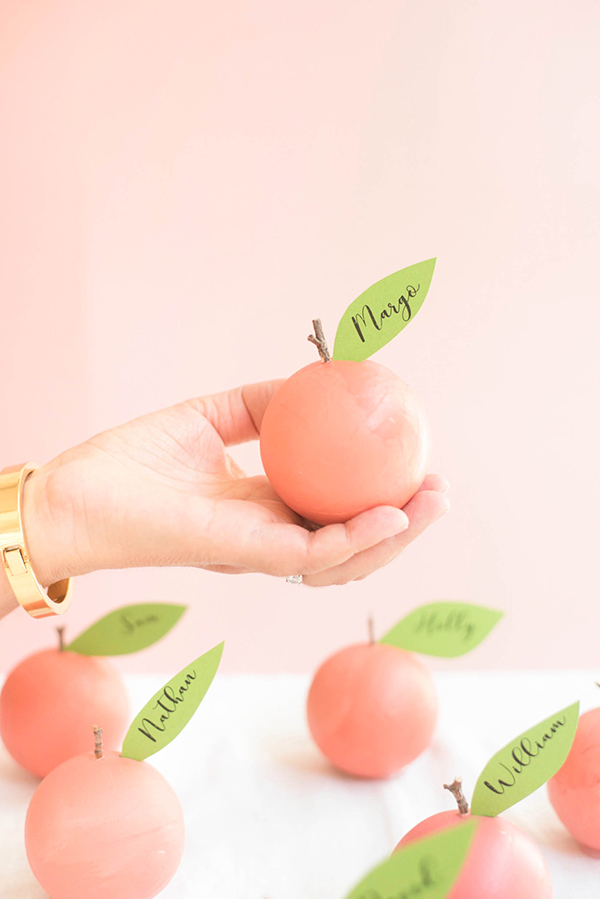 Materials needed: round paper mache ornaments, orange and peach paint, green cardstock, hot glue gun, parchment paper, scissors, mat knife, real twigs or tree branches, about 1/8" diameter.
Step 1: Paint the ornaments peach colors – I used a mixture of peach paint and orange. It doesn't have to be perfect, in fact, some visible brush stokes add to the texture of the peach. Leave the string on to hold onto as you paint. An egg carton makes a good place for ornaments to dry.
Step 2: Cut off the string, and carefully cut the ornament with a matt knife, making a ½ – 1" incision. For some reason, I found it easy to cut into some ornaments, and nearly impossible to cut into others. If you have too much trouble cutting into them, simply use hot glue to attach the green tag to each ornament.
Step 3: Print out or write guests names onto green cardstock, leaving room around each name. Cut out a leaf shape around each name.
Step 4: Squeeze out a generous, quarter-sized dollop of hot glue onto the parchment paper. Place the ornament on the glue, with the cut side facing up. Let cool.
Step 5: Cut a ¾" piece of branch, and hot glue to top of the ornament, right next to the incision.
Step 6: Insert the leaf into the incision (or glue if you are unable to cut into the ornament).
Photography by Tim Gibson