Here's a quick and easy twist on one of our favorite garland DIYs. If you're throwing an upcoming party or shower, add letters to decorated fan garlands to spell out a word or phrase. We made this version for a baby shower, but you could adjust it for any holiday or celebration. Full instructions below!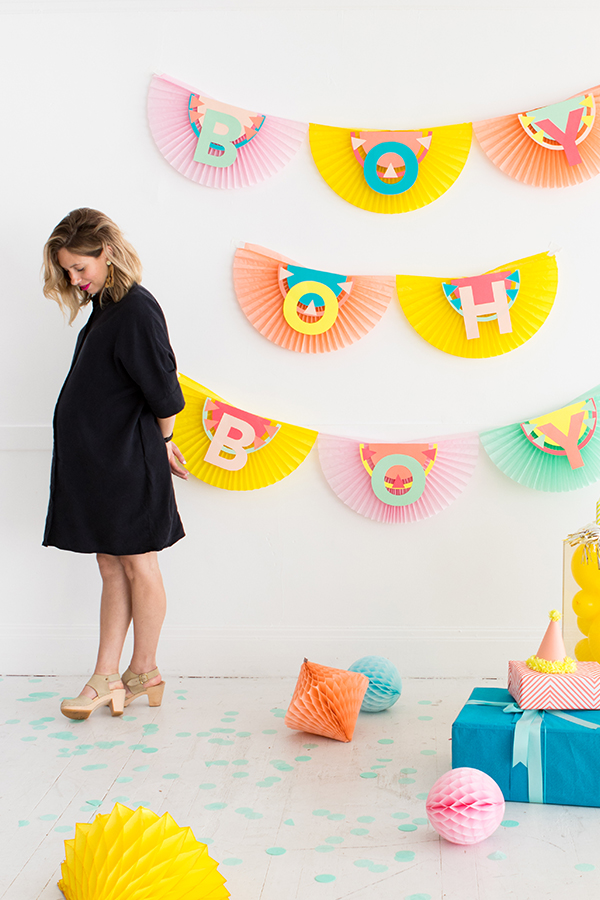 Materials Needed: Letter Bunting PDF, cardstock (in a bunch of colors), scissors, glue stick, bunting fan garlands (in light pink, peach, yellow, and mint), Scotch tape
Step 1: Separate the segments of the fan garlands with scissors. Mix up the colors and tape the segments back together with scotch tape.
Step 2: Print your phrase in a sans serif font, so that each letter measures 7" in height with one letter per sheet of cardstock. Cut out with scissors.
Step 3: Download the banner PDF and print enough sheets for each letter on different color cardstock. Cut out all of the pieces.
Step 4: Assemble the banner components. Each banner will have one semicircle, one half-circle border, 3-4 triangles, and one letter, all in different colors. Lay out the pieces so the flat edges of the semicircle and half-circle border are flush. Then, place the letter on top and glue to secure. Glue triangles around the sides of letters.
Step 5: Hang up the fan garlands. Line up the flat edge of the semicircle with the flat edge of the fan and tape to the face of the garland. You're all done!
SHOP THIS POST: Clogs, Honeycombs, Confetti, Party Blowers, Gift Wrap
Photography & styling by Sarah Kate Price
Crafting by Naomi Julia Satake & Justine Pon