Long live the s'more, that thing that's synonymous with summer but can easily roll over to any time of the year (if you play your cards right). Today you're in luck because we're playing our cards the best we can and waving goodbye to summer with a giant s'more: graham cracker blondie, chocolate ganache, and torched marshmallow fluff. It can feed 10 people in one fell swoop and nobody has to worry about burning off their arm hair.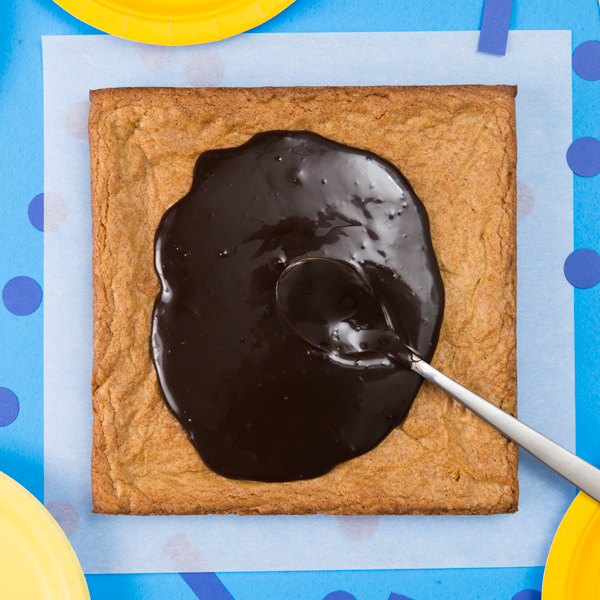 Giant S'more
Serves 8-10
For the Graham Cracker Blondie:
1 stick unsalted butter
1 cup light brown sugar
2/3 cup graham cracker crumbs
1 large egg
1/2 teaspoon vanilla
1 cup all purpose flour
1/2 teaspoon baking powder
1/2 teaspoon kosher salt
Start by preheating your oven to 350ºF
In a medium sized saucepan melt down the butter over medium heat until it starts to fizzle and the milk solids start to turn an amber color. Turn the heat down to low and cook until the fizzling stops and you have a nice beautiful amber colored butter. Turn off the heat and stir in the brown sugar and graham cracker crumbs and set aside to cool slightly.
While the mixture cools grease an 8×8″ baking pan and line it with parchment paper so two sides stick up over the edges to help with removing later.
After the mixture's cooled for about 5 minutes add the egg and vanilla and stir to combine. Add the flour, baking powder, and salt all at once and stir the batter together just until combined. It'll look like a soft cookie dough and that's exactly what we want.
Plop and evenly spread the batter into the prepared baking pan and bake for 20-25 minutes, just until it turns golden brown and the top is a tad shiny. Let the blondie cool completely in the pan before moving on with the s'more building.
Once you're ready to build the s'more you can move on to the Chocolate Ganache. You're going to need 1/3 cup heavy cream and 2/3 cup of your favorite chocolate chips. I used a bittersweet chip to combat the sweetness with the marshmallow and blondie but if milk chocolate is your jam then go on and live your life. Combine the cream and the chocolate in a microwave safe bowl and heat in 30 second increments, stirring well after each burst. It should only take a couple rounds to melt the chocolate and give you a chocolate ganache.
Transfer the blondie to a piece of parchment or a serving platter and spread the chocolate ganache all over the top. Set this aside while you make the marshmallow. For the marshmallow fluff you'll need:
3 egg whites
3/4 cup white granulated sugar
a pinch of kosher salt
1/2 teaspoon of vanilla
Get a medium sized saucepan with about an inch of water and set it over medium heat to bring it to a simmer. In the bowl of a stand mixer stir all the ingredients together then set the bowl over the saucepan of simmering water and stir it occasionally with the whisk attachment until the sugar's dissolved and the mixture reaches 160ºF on a candy thermometer.
Carefully transfer the bowl to the stand mixer and beat on medium high speed until the outside of the bowl is just barely warm and you have thick glossy marshmallow fluff.
Now we can either go the fancy route or the 911 emergency I need dessert now route. If you don't want to use a piping bag just plop all the fluff out onto the ganache covered blondie and sort of swirl it around with a large spoon (the same large spoon you probably eat soup with) until it look beautiful and artistic/haphazard then use a culinary torch to toast the marshmallow fluff to a nice golden brown color. If you want to go the piping bag route just use whatever tip you want to pipe out some lines and squiggles then toast to your hearts content. Serve the giant s'more within a couple of hours so the marshmallow fluff doesn't fall to much and start to melt. You can also make everything ahead a couple of hours ahead of time and assemble right before serving so you can show everyone know you have a culinary torch and you know how to use it.