These rainbow balloon hats are so fun and simple to make for a party. All you need is balloons, tape, and a headband and BOOM, you're a rainbow goddess! (P.S. check out more balloon hats here!)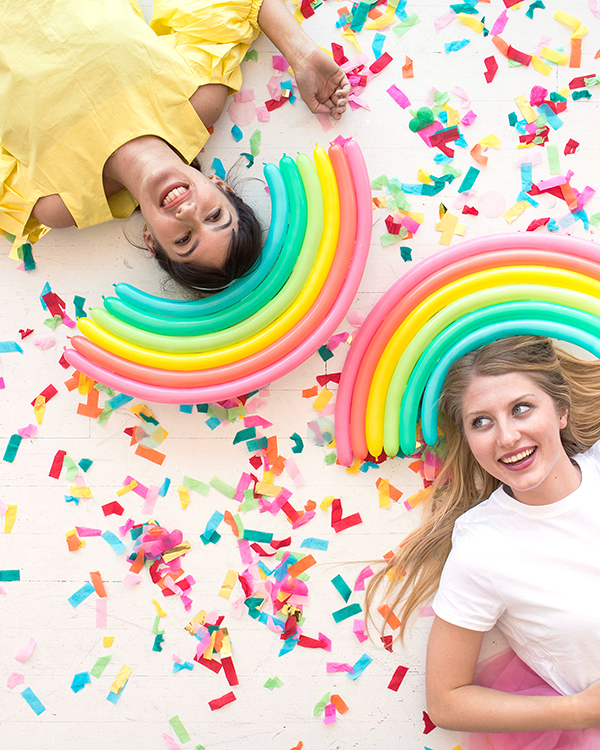 Materials Needed: 160Q Long balloons (in rainbow), balloon pump, 1" double-sided Shurtape, low temp hot glue gun, plastic headband
Step 1: Inflate a blue balloon to 18 inches, knot both ends, then trim off the leftovers. Repeat with a wintergreen balloon to 20" length.
Step 2: Cut a piece of 3" long tape into ¼" wide segments. Adhere the blue green to the wintergreen balloon in an arched shape with a thin piece of tape.
Step 3: Inflate a green balloon to full length. Adhere the inflated end of the green balloon to the outside of the arch. Curve the balloon along the arch, adding tape periodically. Once you've met the end, twist, trim, and knot to length. Repeat with the remaining colors until you have a full rainbow!
Step 4: Put a dab of hot glue at the top of the plastic headband. Attach to the center of the arch. Hold in place until cool. You're ready to party!
Photography and styling by Sarah Price Olsen and Amy Moss
Crafting by Naomi Julia Satake 
SHOP THIS POST: Yellow Dress, Skirt