Have you seen J.Crew's summer window displays?! We loved them so much, we decided to bring that look home for a fun summer soirée. Brighten up the look with these beautiful neon pineapples, and a mix of neon and pastel honeycombs. We have so many fruity party accessories in the shop, you could make a whole theme of it!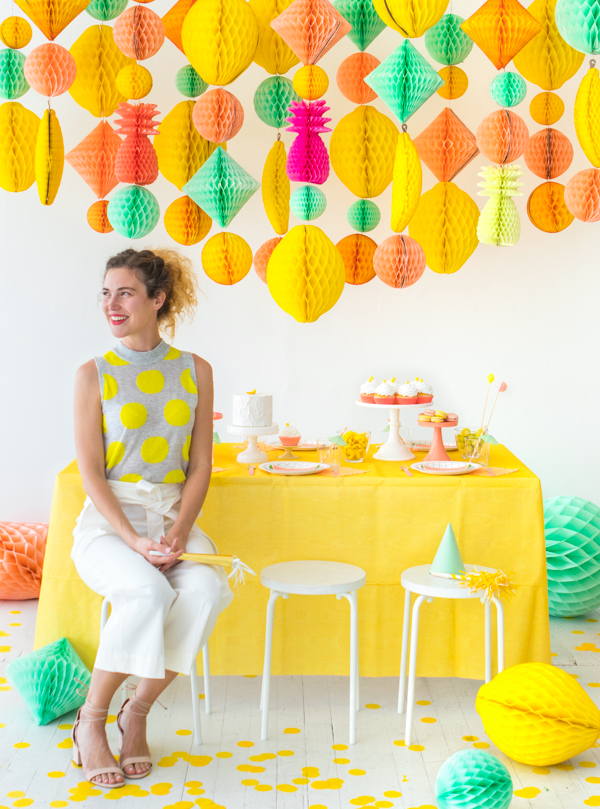 Materials Needed: Honeycombs (in peach, gold, and mint), neon pineapple honeycombs, banana honeycombs, lemon honeycombs, gaffer's tape, twine, scissors, 3m small wire hooks
Step 1: Cut a strand of twine long enough to reach from the ceiling to approximately 20″ from the top of your table.
Step 2: Tape the bottom-most part of the twine along the edge of the cardboard on a closed honeycomb ball.
Step 3: Add more honeycomb to the twine, placing them tip to tip. Leave extra twine at the top for tying.
Step 4: Assemble the honeycombs. Repeat the previous steps for as many strands as you like, varying the number of honeycombs per strand.
Step 5: Install 3m hooks in a row on the ceiling 12" apart.
Step 6: Tie the beginning of the twine to a 3m ceiling hook to hang the honeycomb strand. Repeat for the rest of the honeycombs. To create a subtle v-shape, hang the longest strand at the center and consecutively shorter strands on both sides. Add a second row of honeycombs for more depth.
Crafting by Justine Pon and Erica Kjos
SHOP THIS POST: Pants, Neon Cake Stand, Pineapple Candles, Fruit Picks, Drink Umbrellas, Fan Pick