Lately we've been super inspired to create over the top honeycomb installations, and thought we'd have a go at an ombre version! One of the best things about working with honeycomb is that they fold up flat, so they're super easy to store and reuse later. Think of the possibilities! (Psst… check out this post for more honeycomb love)!
Materials Needed: Ceiling hooks, chicken wire, gloves, scissors, zip-ties, honeycombs (in white, yellow, gold, peach, pink, and dusty rose), tissue paper fans (in white), spray paint (in coordinating colors), streamer garlands (in yellow and white), wire cutters
Step 1: Install ceiling hooks where you want your waterfall arch to start and end.
Step 2: Unroll enough chicken wire to reach from the ceiling to the floor. With a loose bit of wire, secure the end of the wire roll to the starting ceiling hook. Use gloves to avoid cutting your fingers!
Step 3: Drape the chicken wire across to the second hook and secure again with loose wire. Release enough chicken wire to form a wavy waterfall to the floor, then trim with wire cutters.
Step 4: Bend the hanging chicken wire into a tube shape. Secure shape with bits of loose wire.
Step 5: Assemble a white honeycomb. Spray paint half of the honeycomb in the first color and let dry completely. Spray paint the second half in the next color to create a gradual ombre effect. Repeat for the white tissue fans and streamer garlands.
Step 6: Assemble the larger honeycombs and attach them to the chicken wire in an ombre pattern with zip-ties. Attach large tissue fans to the back side of the chicken wire structure to add dimension. Add smaller honeycombs and hanging garlands to fill remaining gaps.
Step 7: When you're ready to break down the installation after your event, clip the zip-ties with wire cutters to remove the honeycombs and save them for later!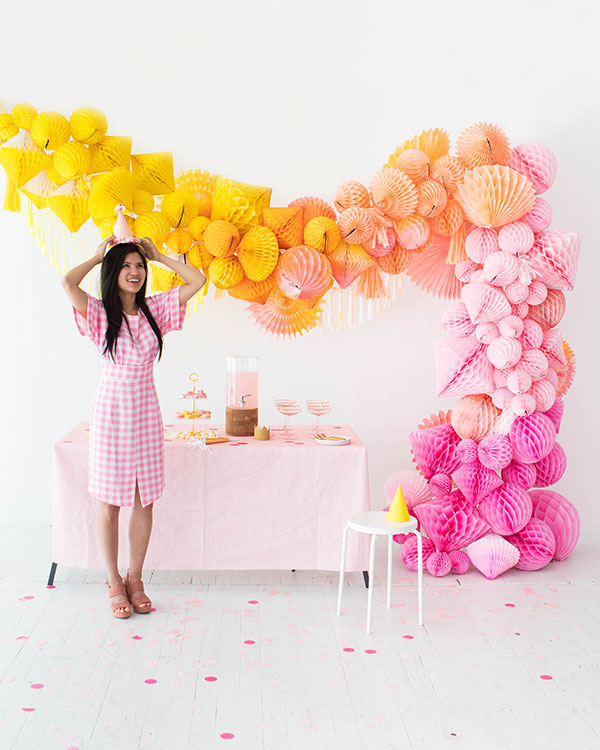 Crafting by Naomi Julia Satake and Justine Pon
SHOP THIS POST: Honeycombs, Drink Dispenser, Party Horn, Confetti