We just went to the most beautiful dinner party at Heather Day's Art Studio in San Francisco. It was a special dinner hosted by Studio Table. They brought together five different people to decorate the space and make all the beautiful details for a meal inspired by method's "Sea Minerals" line and their #FearNoMess campaign. We got really inspired by the sea and water and made this fun balloon backdrop…
It was so fun working with all these creative people. method's Sea Mineral fragrance really inspired every detail of the night: Heather Day hosted a "Land and Sea" themed dinner and provided the space, Honestly WTF hand-dyed napkins in a natural blue and embroidered them with everyone's names, Jenn Sanchez made a crazy hanging floral installation and centerpiece that looked like coral, and Amanda Holstein made cute gift bags with lots of takeaways like homemade body scrub. Our team created and designed a balloon backdrop. We went outside of our normal color palette to focus on blue colors and shapes inspired by the ocean. Then we added clear balloon bubbles (you can see how we make installations like this here). We tried to create a piece that popped visually but also had movement – like water cascading down the wall. The collaboration gave the dinner so much meaning. The whole evening was such a thoughtful experience. While we were setting up that day, the studio was a giant mess (covered in flower scraps and balloons) but it was so beautiful to see all the different teams creating something together.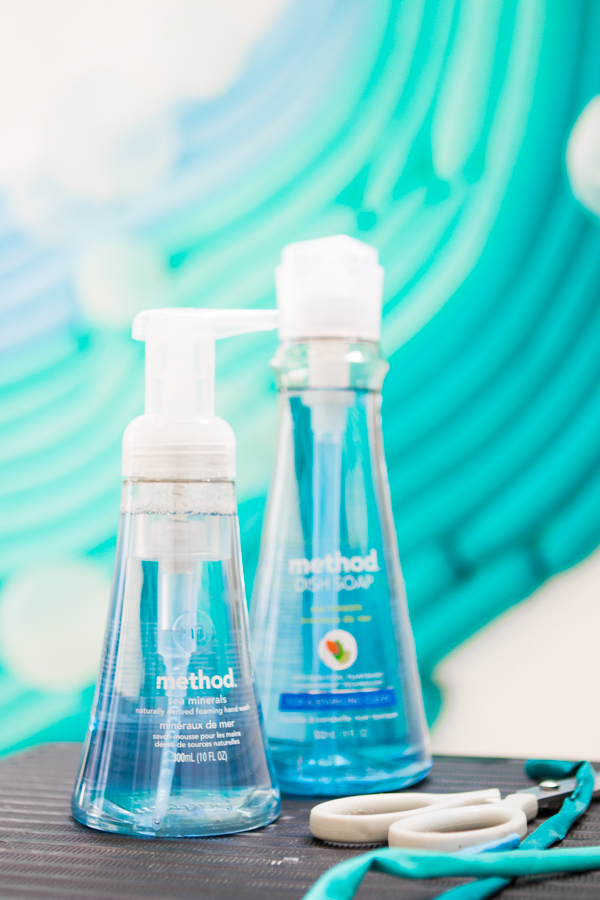 This post is sponsored by method: Fear No Mess. 
Photography by Naomi Julia Satake
Crafting by Naomi Julia Satake and Erica Kjos