Why should Valentine's be the only holiday to share a treat at school? These lucky 4-leaf clover pencils are easy to make in bulk, and you can get 12 pencils for $1 at the dollar store. Or make a few for friends, play-dates, cousins, or any leprechauns hanging around the house.
Materials needed: thin green paper, St. Patrick's Day pencils, scissors, x-acto knife, ruler, st patricks day tags template (optional), tape.
Step 1: Cut out a 5" x 5" square of paper.
Step 2: Fold in half diagonally, then fold in half again.
Step 3: Holding the point at the bottom, cut out a heart shape, starting and ending about 1/2 inch from the point.
Step 4: Unfold one fold, and cut two ½" slits in the center of the clover.
Step 5: Insert the pencil into the slits and adjust so the clover is at the eraser end of the pencil.
Step 6: Print out, cut out and attach the tags with double-stick tape. Notch the ends if desired. Or, create your own personalized tags for friends or classmates.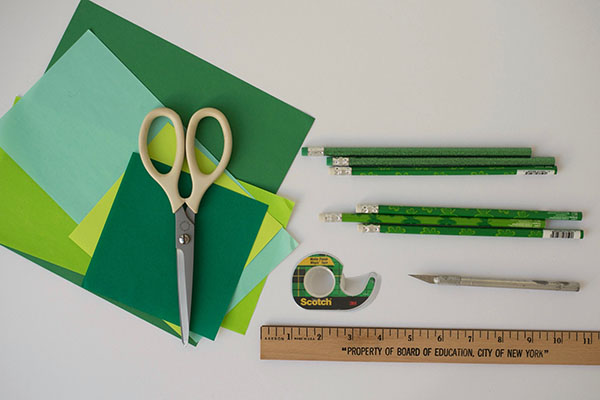 Photography by Tim Gibson