What could be better than an ice cream cone that doesn't melt!? Brightly colored gum balls atop a tiny paper cone look just adorable. Display them in a bowl filled with – what else – sprinkles!
Materials needed: gum balls, twine, scissors, 3" x 8" cellophane bags, gold cupcake liners, double stick tape, regular tape.
Step 1: Flatten a gold cupcake wrapper in half. Fold in half again to find where the point should be.
Step 2: Gently twist the wrapper, on your fingertip, into a hat shape and secure with a tiny bit of doublestick tape.
Step 3: Fold a 3" x 8" cellophane bag in half lengthwise, and tape the edges together using clear tape.
Step 4: At this point, there will be 4 layers of cellophone. Insert the gold "cone" point down between the top and second layer of cellophane. Use a pencil tip to open the layers if you have trouble.
Step 5:  Push the cone into the cellophane bag (use a pencil if necessary), and top with three gumballs.
Step 6: Tie the top of the bag with baker's twine or string.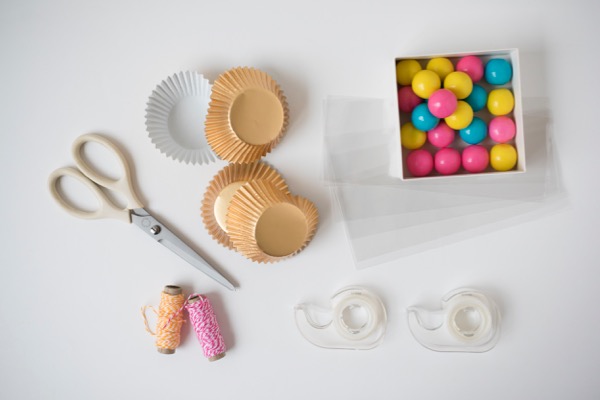 Photography by Tim Gibson