Oh Happy Day turned 10 Years old this year! Technically our birthday is in May but we were moving into a new studio at the time so we had to postpone the celebration. I wanted to take the time to throw a little party before the year ended so about six weeks ago we started planning two events: "a little cocktail party" and "a staff dinner." I keep laughing at how fast they both turned into crazy epic parties. They were supposed to be pretty simple and then we kept saying "what if we did this…, what if we added that…" until we were throwing the biggest party I've ever thrown. I wanted to share some aspects of the party here this week. First up is this EPIC balloon installation by Geronimo Balloons.
Jihan Zencirli is the genius behind Geronimo Balloons. If you don't know, Jihan invented the now-ubiquitous Fringe on Balloons. About 8 years ago she added some pretty fringe to a 3′ balloon to give as a gift and everyone went crazy. So she started a company making beautiful balloons for celebrations. More recently she started making large scale Balloon Installations on buildings. She gets flown all over the world to make these amazing installations. She is a Balloon Artist.  I've been friends with Jihan about as long as I've had this blog. We met over the internet and I even sold her the first 3 ft balloons from my Etsy Shop. Ha! I figured she would probably be busy but I asked her if there was anyway she could come make a balloon installation on our building and after rearranging her schedule she agreed! I sent her the dimensions of our building and pictures of the facade and she designed a gorgeous installation.
Jihan led the team and we had about 10 people working for a day and a half to make this. We had people pulling spiderman moves to secure it and after a long morning it was finished and ready for our party. One thing I love about Jihan's installations is she only makes them in public spaces so the community can interact with it. It was really beautiful to see everyone stop and take pictures and be blown away by the balloons. Everyone was so happy! It was like a gift to our neighborhood. I feel super lucky Jihan was willing to do this to celebrate Oh Happy Day's 10th birthday!  Below are some photos and a time lapse of our installation.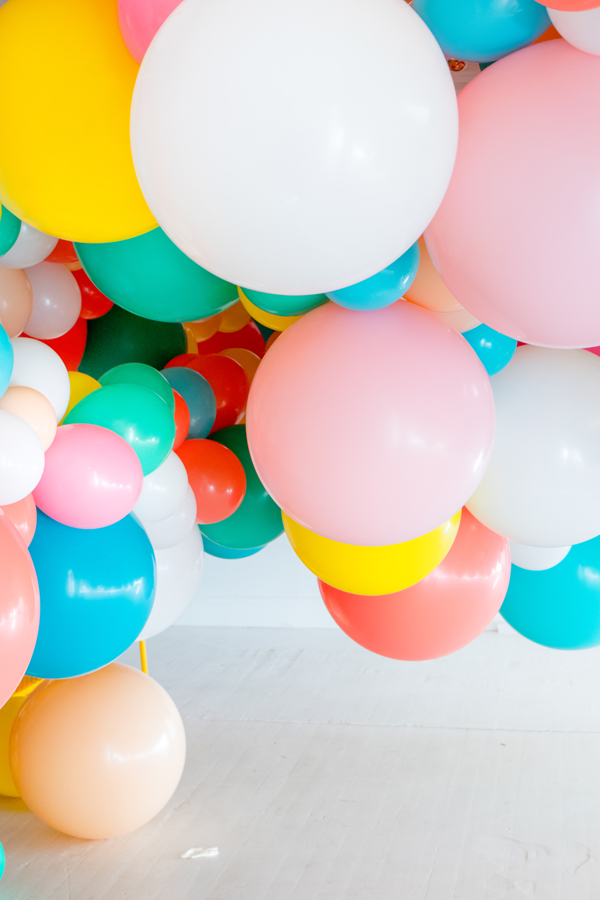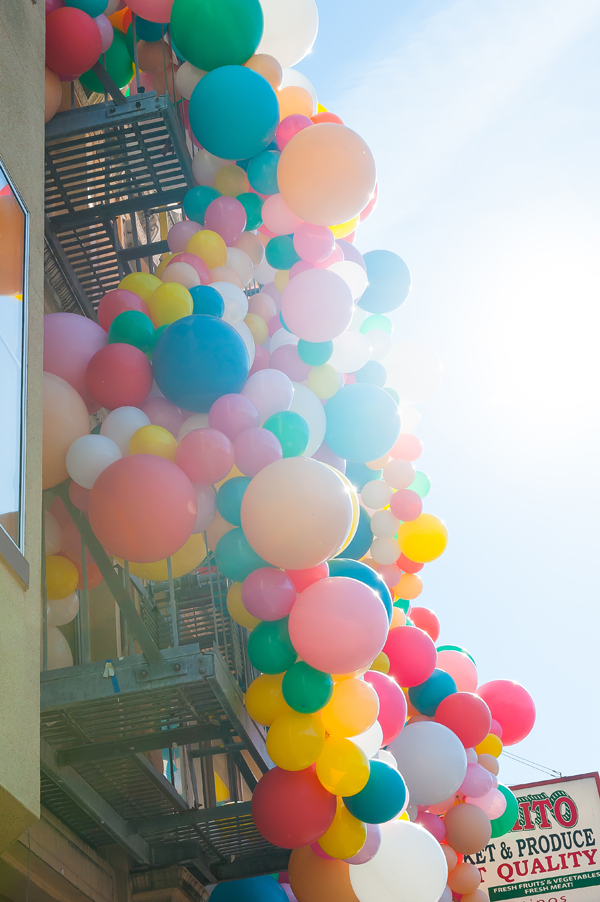 Photos by Sabrina Bot and Paul Ferney for Oh Happy Day