Here is a costume for two people. We thought it would be fun to use a baby for our model so we attached the "croissant" to a forward facing baby carrier. Here is Irene again to tell us about this costume:
"Oui oui! A croissant! The French (and many amazing places in SF) have perfected this buttery, flaky, and truly delicious pastry. I honestly think that the modern magician is actually a baker- it's incredible how they're able to turn water, milk, flour, yeast, sugar, and butter into a semi-divine experience. This costume is clearly inspired by all the croissant feels!"
It's distinctive flaky layers and crescent moon shape is graphic, iconic, and perfect for a crowd-pleasing Halloween costume. Fun fact: we used almost the exact same method to make croissants in real life to make our croissant costume. The only difference is that we had to add extra layers of foam, because unlike puff pastry, our foam didn't puff and separate into thinner layers. Also, most of the costumes we've done this year are for independent & mobile humans, but we certainly wanted to get some options out there for the little ones in baby carriers. What better than a croissant? C'est magnifique!"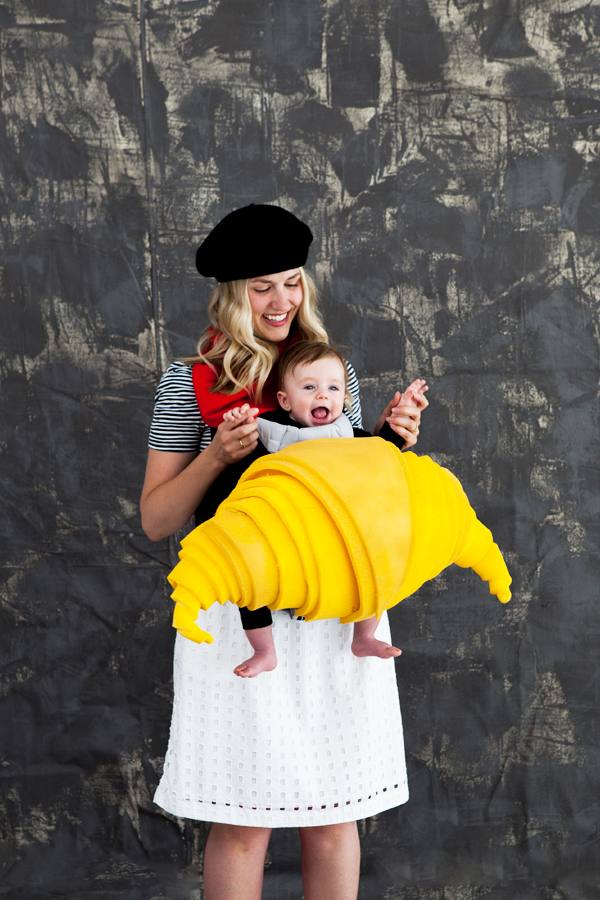 Materials: Foam, Hot glue, Scissors, Spray Paint, Wire hanger, Ruler, Baby Bjorn
Step 1: Cut a triangle out of foam that is about 4.5 feet long and 2.5 feet wide.
Step 2: Make 3 more triangles each one 2 inches smaller than the last on each side.
Step 3: Hot glue the triangles together from largest to smallest.
Step 4: Untwist your wire hanger and hold it against the foam. Roll the triangle (with wire hanger) beginning on the wide end, working your way toward the smallest end. As you begin to roll, stop every couple of inches to secure the foam in place with hot glue.
Step 5: After the foam is securely glued in place, bend the sides to get a more round shape. If the wire isn't strong enough, you may have to use more hot glue to get the shape you are looking for.
Step 6: Once you have your croissant shape, flip it over to the back so that you can cut out an area for the baby bjorn to fit. Ours was 8.5 inches wide, 13.5 inches long, and 4 inches deep.
Step 7: Lastly add velcro to the back of the croissant, and to the front of the baby bjorn. Stick on and enjoy!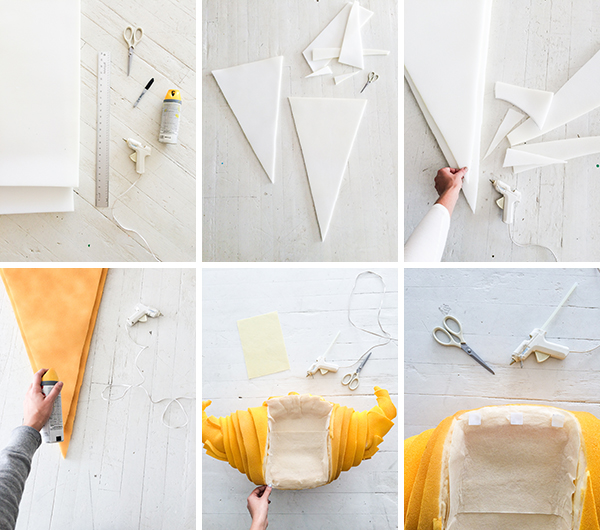 Photography by Paul Ferney for Oh Happy Day
Art Directed by Irene Yu
Styled by Amy Moss
Produced by Alison Piepmeyer
Crafting by Mercy Favrow
Special thanks to A & C for modeling!