Cake toppers are like accessories for a cake. They can add charm, make a statement, and easily "dress up" a cake. I love making these little bead headed guys – you can also see a similar version for cupcakes right here.
Materials needed: 1" unfinished wooden round beads (25mm), mini cupcake liners, mini pom poms, craft glue, string or twine, scissors, tissue paper, black pen, pink stamp ink, clean pencil eraser, 2 mini clothespins.
Step 1: On a round bead, draw two dots for eyes and a half circle for a smile.
Step 2: Using the round eraser of a pencil, stamp two rosy cheeks with pink ink.
Step 3: Fold a mini cupcake liner in half, then gently twist the liner into a hat shape and secure it with glue.
Step 4: With a tiny bit of glue, attach a mini pom pom to the tip of the hat.
Step 5: Cut a 3 x ½" piece of tissue paper. Fold it in half lengthwise and cut fringe into the long side.
Step 6: Apply a small line of glue around the base of the hat, and glue the hat to the top of the bead.
Step 7: Wrap the fringe around the head. Let dry, and then gently fluff the fringe out with your fingertips.
Step 8: Cut a 12" piece of twine. Once the mini pompoms are securely dry, tie a knot around each mini pom pom, spacing the heads about ¾" apart.
Step 9: Tie each end of the twine to each skewer, about 10" apart. Clip the twine with the mini clothespins, and cut off any excess twine.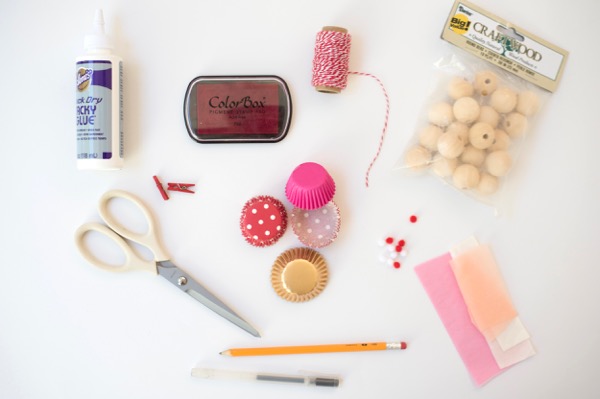 Photography by Tim Gibson