I had a lot of requests for another Back to School Shopping list for Boys (here is the one from last year.) So I thought I would pull together my finds for 2016. With a new baby and a busy job I try to streamline pretty much everything in my life so I can spend my spare time with my family. This includes trying to implement smart systems for my kids so it takes less maintenance from grown-ups.
Here are a few that have worked for me…
1. Mix and Match. I like to buy basics in the same color families that go together well. That way the kids can mix and match and dress themselves. Sometimes though they still manage to find the three things in their closets that don't go together. Which obviously isn't that big of a deal. But one solution I found was I spent an hour with them on a Sunday trying on outfits and taking pictures and printing them out as little thumbnails so now they can dress themselves and still have a little guidance on what things go well together.
2. Socks. I still do the sock trick (where I buy 20 pairs of one type of sock) so I never have to match or organize socks. This year I realized my boys (who are 2 years apart) are close enough in size that I only have to buy one size for them both to share. Kind of boring and practical but so convenient. I did also start to buy ankle socks this year and encourage them to roll up their pants cause I think little boys look so cute with the bare ankles look.
3. Marking Clothes. Clothing companies have inconsistent sizing so a size 6 from Zara is different from a Gap size 6. One problem we had is if someone other than me did the laundry (my husband or cleaning lady) the clothes ended up in the wrong drawers and my kids would come out dressed for school in too-tight-pants. (Then get frustrated when when we made them change.) Now I mark all the clothing with a dot on the tag using a sharpie. That way ANYONE could put my kids clothes away correctly. (Tip: Mark the older kids with a lighter color and younger kids with a darker color so when something is ready to be passed down you just cover the light dot with the darker color.)
OUTFIT 1
Cardigans – Put a cardigan on a little boy and you will instantly get compliments from strangers in the streets. I usually get mine from H&M every fall but Old Navy had a couple options I liked this year.
T-Shirts – This year we spruced up our blank t-shirts with iron on letters. (See DIY here.)
Pants – We've been really into the rolled up pants/bare ankle look. So cute on little boys.
Backpacks – This year I let my kids pick a bunch of patches and we added them to their packs. (Read about it here.)
Shoes – If it's like herding cats getting your kids out of the house then easy slip-on shoes are the best. We always have a pair of Vans in rotation. They're classic and easy.
OUTFIT 2
Lunchbags: I still say there is a shortage of cute lunch bags. Our googley eyes ones from last year are still going strong. This monster lunchbox is pretty cute too.
Bento Boxes: I started using these tupperware bento boxes for lunch time and really like them. The metal ones I used to buy leaked sometimes so we moved on to these.
Sweaters: San Francisco weather demands that you wear a sweater more days than not. These lightweight sweaters are perfect. I love the iconic stripe.
Pants: We bought several pairs of these drop-crotch pants. They look so stylish and are made of comfy materials. Like stylish sweatpants. The European brands like Zara and H&M have a lot of these.
Shoes: I usually buy at least one pair of shoes like these New Balances. They are comfortable and stylish and Crew Cuts always has cute colors. (There is a good source for velcro versions below.)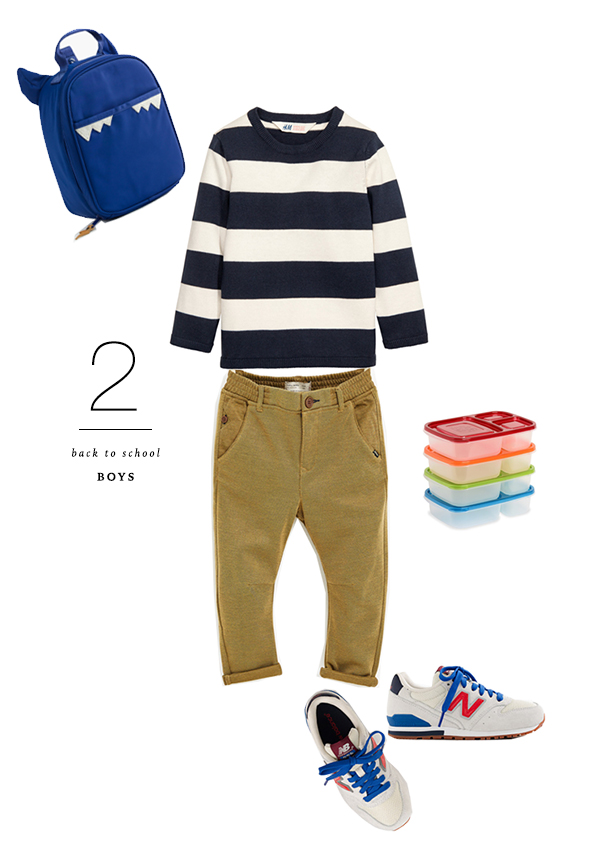 OUTFIT 3
Hoodies: I like these thin hoodies from H&M they somehow feel slightly dressier than a standard hoodie but still feel sporty and playful.
Hat: My kids aren't allowed to wear hats to school but I still bought this because: CUTE!
Pants: Here is a good example of buying color families. This outfit feels very grey and kind of European.
Backpack: Jansports always feel classic to me and you can't beat the price.
Bensimon: I love the Bensimon High Tops. We keep a pair in rotation and save them for when the boys dress up because they feel kind of formal. I was so happy when I discovered I could buy them in the US.
OUTFIT 4
Button Up: This shirt is so soft, it's as comfy as a t-shirt.
Jeans: I always pick up a couple pairs and dress them up a bit.
New Balance: I bought this pair for Moses this year. The tan color hides the dirt so they look better longer.
Herschel Backpacks: Moses had one of these in Kindergarten and I think they are perfect. They look stylish but are modern and functional.
Bike: Our youngest is finally turning into a strong bike rider so we started riding bikes to school. I love these classic looking Public Bicycles, my son has one and we get compliments everywhere we go.
OUTFIT 5
Henley: These shirts are slightly dressier than t-shirts. I love these!
Personalized Pencils: I buy these every year for my kids. Only $12 for a set.
Pencil Case: This clear pencil case from Muji is a favorite.
Superga: These classic Italian tennis shoes are some of the best looking velcro shoes and are very sturdy. I love these.
OUTFIT 6
Hoodie: I loved this asymmetrical zipper hoodie. Nice job H&M.
American Apparel Shirts: I love AA for basics and am a little sad that their selection seems to be dramatically reduced. I still buy most of my t-shirts there because they are soft and stay soft after lots of washes.
Beanie: I picked up a few of these for cold mornings.
Jeans: Like I mentioned before I try not to buy too many pairs of jeans but when I do I usually buy them in grey because they look so nice and go with everything.
Vans Velcro: Here is another option for velcro if your kid isn't super into tying his shoes yet.
Penny Skateboards: These Australian skateboards are so cute, they come in the best colors and my kids have been taking skateboarding classes. They are small so you can easily pack them around.