Aloha! Planning a luau this summer? Appease the tiki gods with these hula dancers as they dance their way across your cupcakes. Bonus – they are fast and easy to make!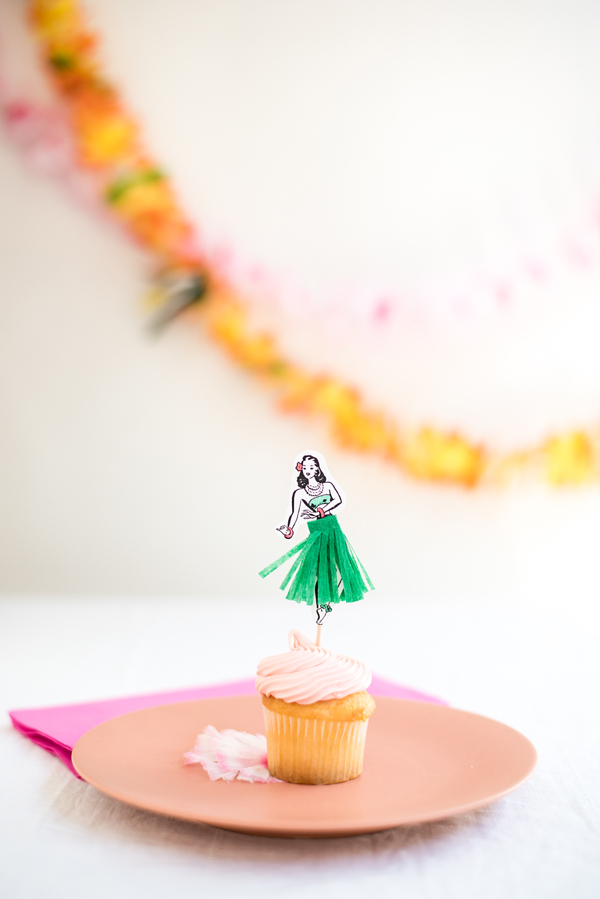 Materials needed: Hula Dancers Template, scissors, watercolors (you could use colored pencil or marker as well), paintbrush, toothpicks, glue, green streamers
Step 1: Print out the Hula Dancers Template, and cut out the hula dancers. Leave a tiny edge of white, but cut off the skirt that swings to the left.
Step 2: Color in the flower in her hair, bikini top and bracelet. Let dry.
Step 3: Cut a 6" to 7" piece of green streamer. Fold in half lengthwise, and then in half again. Cut ¼" off the long side (to make the skirt shorter). Cut fringe into this piece.
Step 4: Open the fringed piece and lay it flat. Apply a thin line of glue to the top of the fringe.
Step 5: Wrap the fringe around the dancer's waist to create the skirt. Pinch it with your fingers as you go to create a flared skirt shape.
Step 6: Glue a toothpick onto the backside of the dancer's feet.
Photography by Tim Gibson