Even though your love for Mom is BIG, these miniature wreaths are anything but! If you're not going to be with your mom on Mother's Day this year, send her this sweet little token in the mail. Even though it's smaller than a piece of toast, the thoughtful message it sends is as big as your love for her!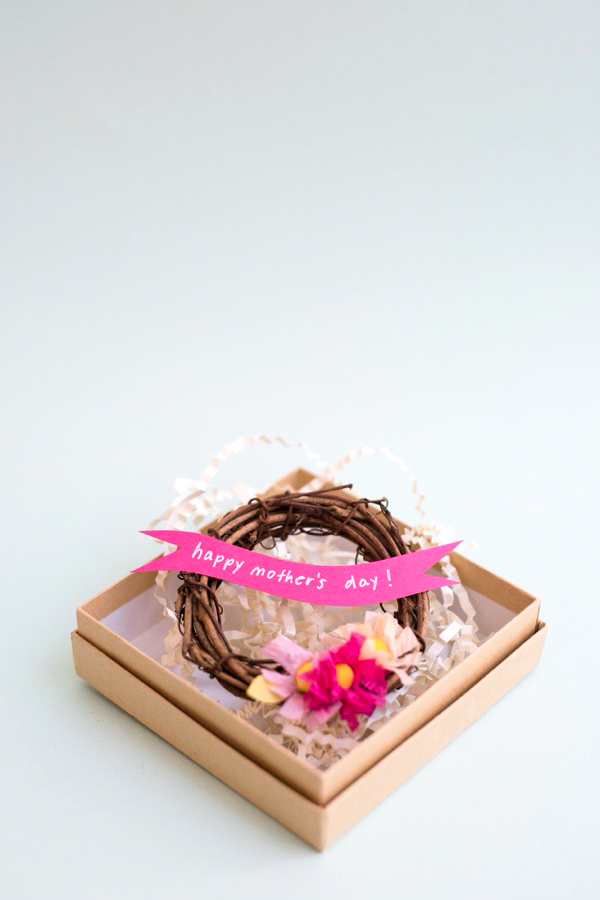 Materials needed: 2-inch grapevine wreaths, card stock, tissue paper or paper streamers, mini yellow pom-poms, scissors, craft glue, hot glue gun, small box, pen.
Step 1: Cut out a (approximately) 1-inch circle from two layers of tissue or crepe paper.
Step 2: Apply a drop of craft glue to the center of the paper, and place a yellow pom-pom in the center of the circle. Squeeze and let dry.
Step 3: Fringe around the outer edge of the layers. Fold and squeeze the paper upwards around the pom pom to create a flower shape. Repeat Steps 1- 3 to create two more flowers.
Step 4: Cut out a few small leaves from green cardstock.
Step 5: Cut out a card stock paper tag in a scroll shape. Make sure it will fit in the small box if you are mailing it. Notch the ends of the strip.
Step 6: Write your message across the scroll.
Step 7: Using hot glue, attach the flowers to the wreath.
Step 8: Using hot glue, add a few green leaves tucked among the flowers.
Step 9: Using hot glue, attach the message to the wreath.
Photography by Tim Gibson