The number one thing I try to do when throwing a party for my kids is of course to make them happy! Though I will admit, it is a little painful to spend time on a theme that feels too commercial. One thing I've learned is to take a few "store-bought" aspects of the theme and then fill in some fun homemade details. It adds a little heart to the party and makes the party feel modern and cool instead of super matchy-matchy.  (See our Modern Spiderman Party and Modern Ninja Turtles Party right here!) Today we're throwing a Modern Curious George Party in collaboration with Hulu! My kids have always loved Curious George and it's one of our favorite chapter books we read at bedtime. For this party we decided to focus on the color yellow (The Man with the Yellow Hat!) and a banana theme and then added in a giant stuffed Curious George and some details like homemade banana cookies and DIY monkey masks. Click through to see all the details! Hulu is now the only place where you can stream all 9 seasons (over 100 episodes) of the animated Curious George TV series. You can visit Hulu.com to start a free 1-month trial, for a limited time.
Project 1: Honeycomb Banana Backdrop | Materials Needed: 30 Honeycomb Bananas,  Crepe Paper, Scissors, String
Step 1: Use this tutorial (with crepe paper and scissors) to make a few strands of fringe garland.
Step 2: Hang the honeycomb bananas in clusters at various heights, interspersed with fringe garlands.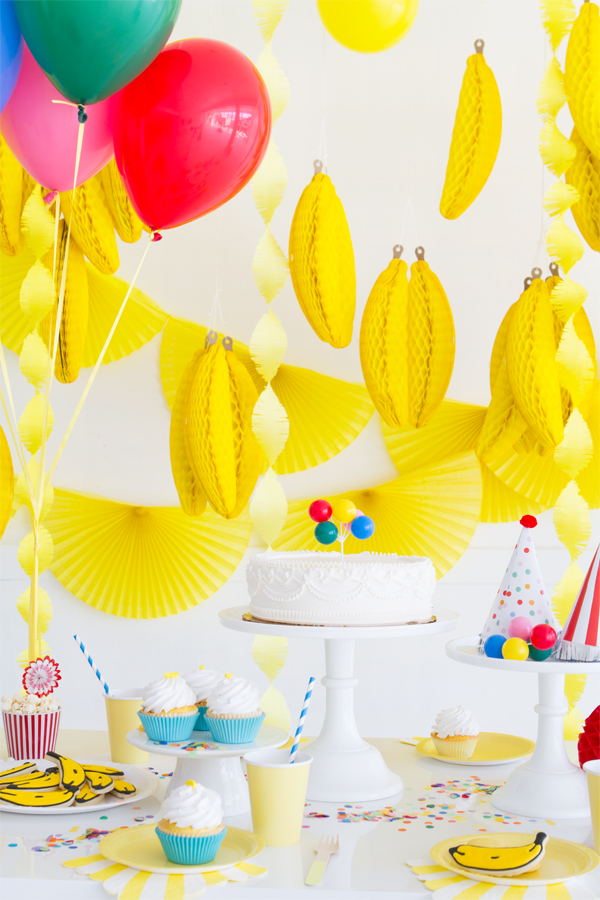 Project 2: Dipped Banana Bar | Materials Needed: Fresh Bananas, Chocolate Sauce, Coconut, Peanuts, Sprinkles, Chocolate Chips, Striped Straws
Step 1: Place all the toppings in small bowls around the table.
Step 2: Right before the party (so the bananas don't get brown), cut them into quarters and stick a straw in the bottom. Allow kids to make dip & make their own!
For food, we also purchased a vintage-looking cake and a bunch of banana cookies from XOBakes. (They were inspired by these!)
Project 3: Monkey-Face Masks | Materials Needed: Monkey Face Template, Brown Cardstock, Cream Cardstock, Striped Straws
Step 1: Use the template to cut out and make the monkey masks.
Step 2: Attach the finished masks to a colorful straw with tape or glue.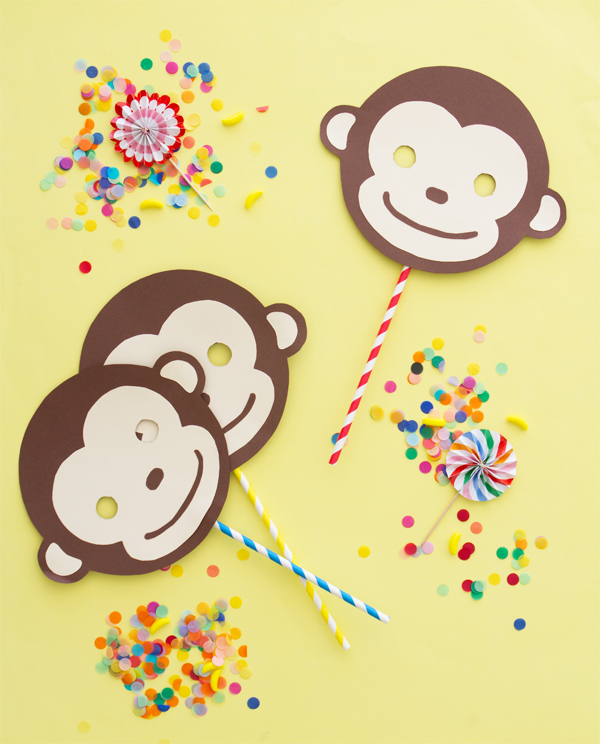 For an activity, you can always have the kids watch a few episodes of Curious George on Hulu. See the trailer right here!
This post is in partnership with Hulu.
Styling & photography by Amy Moss for Oh Happy Day
SHOP THIS POST: Yellow Balloons, Honeycomb Bananas, Bunting Fan Garland, Toot Sweet Party Hats, Plastic Balloon Clusters, Mini Pinwheel Cupcake Toppers, Light Yellow Classic Party Cups, Light Yellow Classic Party Plates, Yellow Strip Party Napkins, Fancy Disposable Cutlery, Banana Runts, Mini Confetti