One of the most popular posts on Oh Happy Day is this Big Fringe Garland DIY. Since it's been a few years since we first made them, we decided it was time for a refresh! These smaller versions are just as easy to make and look great as decorations or a photo booth backdrop. Click through below for more photos and instructions!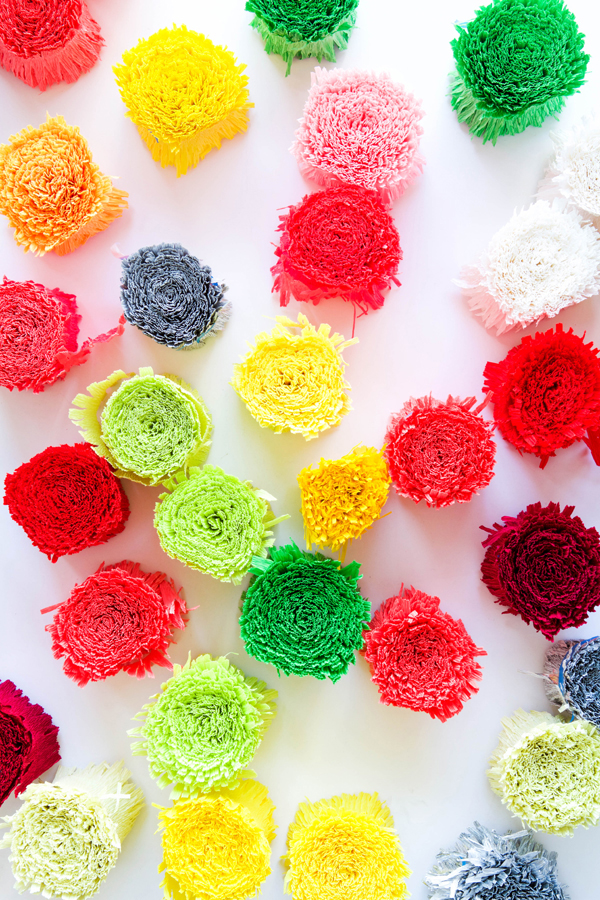 Materials: Crepe paper rolls, scissors, gaffer's tape
Step 1:  Unroll your crepe paper all the way so it's in one long sheet.
Step 2: Fold it over itself until it's a few layers thick (but you can still easily cut through it.)
Step 3: Cut 3″ strips out of the folds.
Step 4: Begin cutting fringe halfway through the fold, leaving some space in the middle.
Step 5: Turn the fold over and finish cutting the opposite side of the fringe. Be sure not to cut all the way through.
Step 6: Attach one side to the ceiling with tape and let the other side fall to the ground. Twist the bottom to create spirals in the crepe paper. Done!
Photos by Sarah Hebenstreit for Oh Happy Day