Did you know strawberries are members of the rose family? These favor boxes won't taste or smell nearly as good, but they are cute! On their own, they are pretty hardy, but with the delicate crepe paper stems and flowers, it might be best to use as a centerpiece until you are ready to gift the egg boxes to their intended! (Also, did you know the top green stem on a strawberry is called a calyx?)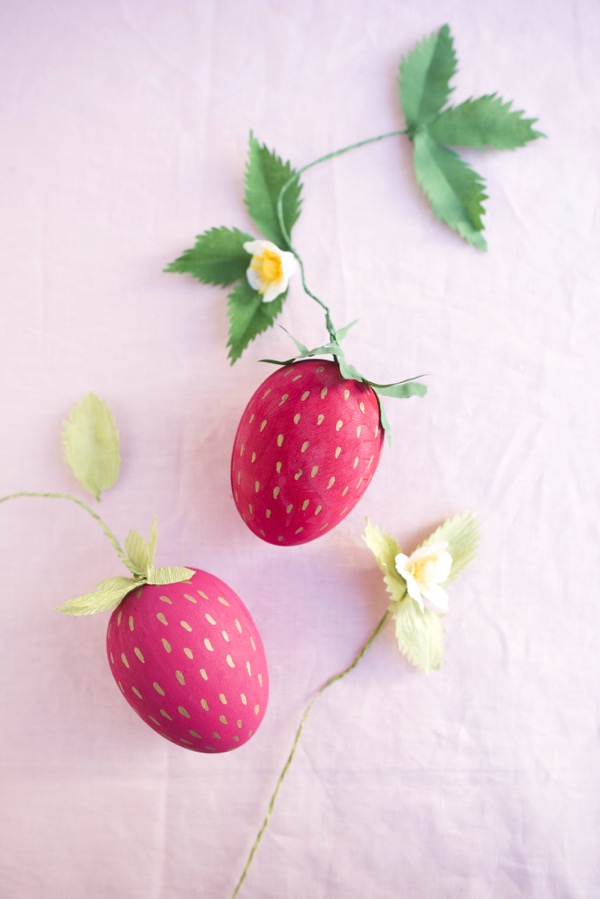 Materials needed: decorative egg craft boxes, strawberry egg template, red paint, paintbrush, gold sharpie pen, scissors, green, white and yellow crepe paper, craft glue
Step 1: Paint the exterior of the egg red. Let dry.
Step 2: Using gold sharpie, paint 'seeds' on the strawberry.
Step 3: Print out the strawberry egg template.
Step 4: Using the stem template, cut 5 petals out of white crepe paper. Set aside.
Step 5: Cut out a 1 x 1" piece of yellow crepe paper, stuff if with a scrap of leftover white crepe paper.
Step 6: Twist it closed to create a button shape. This will be the center of the flower.
Step 7: Cut out a 2 x ½" rectangle out of yellow crepe paper, and fringe one side of it.
Step 8: Wrap the fringed rectangle around the yellow button and squeeze to secure. Apply a few dabs of glue to hold together.
Step 9: With glue, attach the five white petals around the yellow center.
Step 10: Cut out the calyx out of green crepe paper. Don't worry about matching it exactly to the template. Use the template as a general guide.
Step 11: Attach the calyx shape to one side of the top of a strawberry box. Fill with goodies and close. You might need a little tape to keep the box closed.
Step 12: Layer three pieces of green crepe paper, and cut out a rough leaf shape using the leaf template.
Step 13: Cut little notches into the sides of the leaves to create the serrated edges.
Step 14: Glue the three leaves together at their stems.
Step 15: Take a ½" x 4" (or longer if you want a longer stem) piece of green crepe paper. Twist it between your fingertips to create a long stem, pulling gently as you turn the paper. Attach the flower, leaves and strawberry to the stem with glue or double stick tape. Arrange as a centerpiece or across a mantel.
Photography by Tim Gibson