Spring is finally here and with it, birds are re-emerging and getting busy. Make your cake sing with these pretty little songbirds boasting honeycomb bellies – they almost look real at first glance. They would also make the sweetest little garland if you wanted. Just punch a hole at the base of their necks and string through with some pretty twine or ribbon. Or – adorn a birthday gift with one. You could even make it say, "Happy Bird-day!" if you wanted to get punny with it!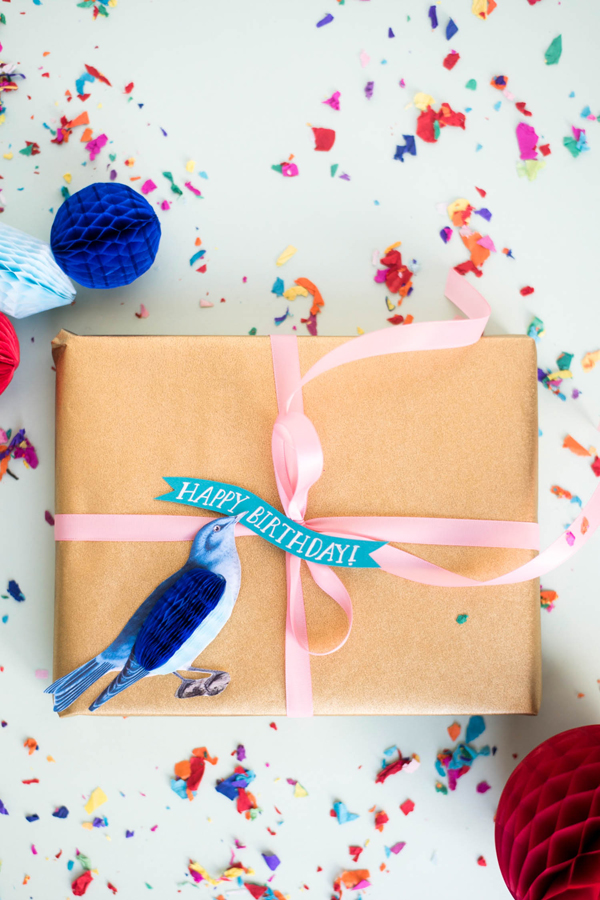 Materials needed: honeycomb paper, bamboo skewers, birds template, cardstock, hot glue gun, scissors, double stick tape.
Step 1: Download and print out the birds template here.
Step 2: Cut out the birds you wish to use. Cut away the leaves and background on the images. Tip: cut just inside the printed edge of the bird so there is no white edge showing.
Step 3: Cut a skewer to the height you want. With hot glue, attach the skewer to the backside of the bird.
Step 4: Cut out the belly shape on the birds template. Choose a corresponding colored honeycomb paper and trace the belly onto it, making sure the gluelines in the honeycomb paper are running horizontally. This is very important – if you cut the paper the wrong way, the honeycomb will not open.
Step 5: If you are using two colors of honeycomb paper (as in the bluebird and the pink bird), use double stick tape to secure the colors together.
Step 6: Apply double stick tape to the back of the honeycomb belly. Attach it to the bird with the curved edge of the honeycomb piece matching the belly of the printed bird.
Step 7: Apply double stick tape to the top of the belly.
Step 8: Using the point of a different skewer, gently open the honeycomb paper belly and flip it up.
Step 9: Using the point of the skewer, press the tape to be sure it is secured to the printed bird.
Step 10: Repeat until you have as many birds as you want decorating your cake.
Photography by Tim Gibson