Ah, Valentine's Day! How I love all the pink and red yumminess. Kids will love these Valentine's Flag Pencils, and you'll love the fact that they are a fast and easy, non-candy Valentine. Plus, you can get a whole dozen pretty pencils at the dollar store, making this Valentine a really affordable one when you have a lot of kids in school.
Materials needed: Valentine's pencils, cardstock, pink, red or gold washi tape, pen, alphabet stamps, ink pad, scissors.
Step 1: Cut out as many 3" x 2″ rectangles as you need (if you have a paper cutter, this will go much faster). Cut a notch in the 2" right side.
Step 2: Stamp the words "TO:" on the front of the flag, let dry, and stamp "FROM:" on the backside. If your child can write, have them write their friends' names on the tags now.
Step 3: Attach the flags to the pencils using washi tape. Tape both the front and backsides to secure the flag. Decorate with extra heart stickers if you wish.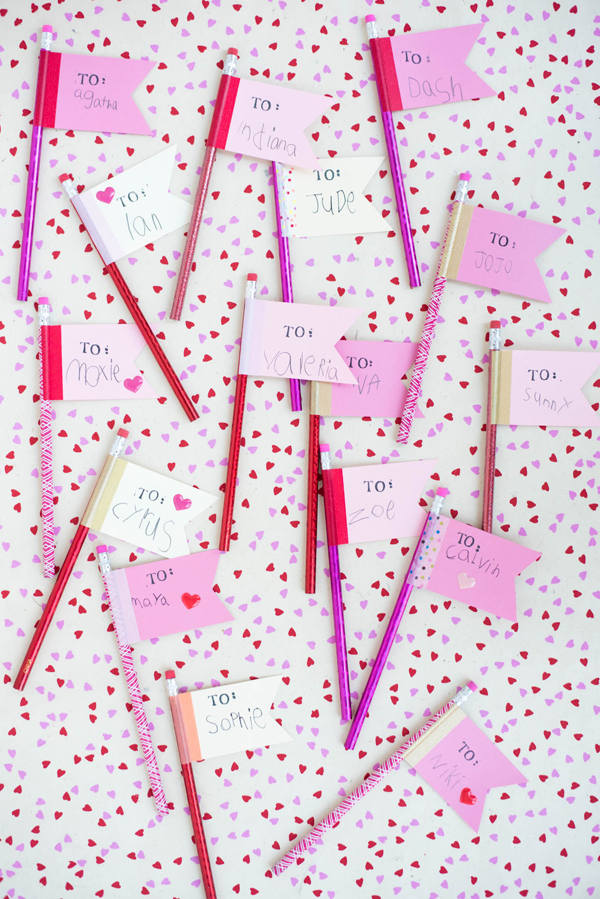 Photography by Tim Gibson