Once all the Holiday decorations come down, it can look a little spare and lonely around the house. This pretty paper garland is great for a birthday or shower, but can also be hung up anywhere, anytime. By opening up the flowers, you get a neat three-dimensional effect.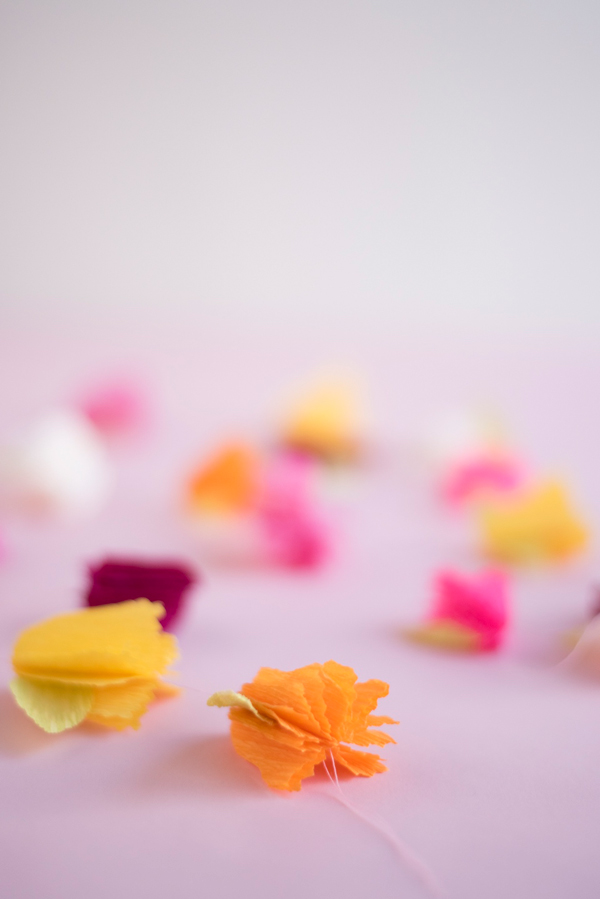 Materials needed: Crepe paper, thread, scissors, sewing machine (not shown), pinking shears
Step 1: With 6 to 8 layers of crepe paper, cut a 2" x 2" square.
Step 2: Cut out a flower petal shape. Cut the top of the shape with pinking shears.
Step 3: Cut out a green leaf. Stack the petals and insert the leaf just more than half way through the petal shape – this will keep the leaf in place once it is stitched together.
Step 4: Hold the flower shape top down, and run the stack through sewing machine. Pull extra thread at the end to make space before putting the next flower stack through.
Step 5: Continue sewing until you have the desired length of garland.
Step 6: Gently open each flower with your fingers to create the 3-D effect.
Step 7: Hang and enjoy!
Photography by Tim Gibson