Remember when cell phones were this big? We're partnering with Verizon Premium Retailer, Cellular Sales today to make a hotline bling piñata.
A vintage cell phone piñata! It's a throw back to days when moms were stuck carrying these bricks around in their purses. Your kids may not understand how far we've come in the last 20 years, but they'll still love breaking this piñata apart!
If you're planning to get new cell phones for your family this holiday season, this would also be a fun way to surprise them. (The mylar fringe would look so pretty under a Christmas tree!) And if you need help choosing the right cell phone for your kids, Verizon Premium Retailer, Cellular Sales makes shopping super easy. Their sales team is totally focused on customer satisfaction so your experience is sure to be awesome. You can book an appointment via phone (866-784-1267) in advance so you don't waste time waiting in line at the store. Make sure you visit their website: holidaydeals.cellularsales.com for exclusive holiday offers!!
Materials: Cardboard, tape, paper mache, metallic gold mylar paper, hot glue, gold spray paint, poster mailing tube, x-acto knife or box cutter
Step 1: Lookup images of old cell phones on Google. Use this as a guide to make the base of the piñata. Draw and cut out the sides of the cellphone out of cardboard.
Step 2: From the leftover cardboard cut out a long piece, 12″ wide. (It has to be long enough to go around the entire cell phone.)
Step 3: Tape this long cardboard strip alongside both of the cell phone sides.
Step 4: Paper mache the entire piñata and let it dry.
Step 5: Cut out strips of fringe from the mylar paper.
Step 6: Hot glue the strips of fringe around the back and the sides of the pinata.
Step 7: Use gold spray paint to paint the front of the pinata and the poster tube.
Step 8: When the piñata has dried, trace a circle around the post tube on top of the piñata. Cut it out with an x-acto knife or box cutter.
Step 9: Insert the poster tube in the hole and glue it in place.
Step 10: Print out buttons for the front of the piñata and glue them to the front.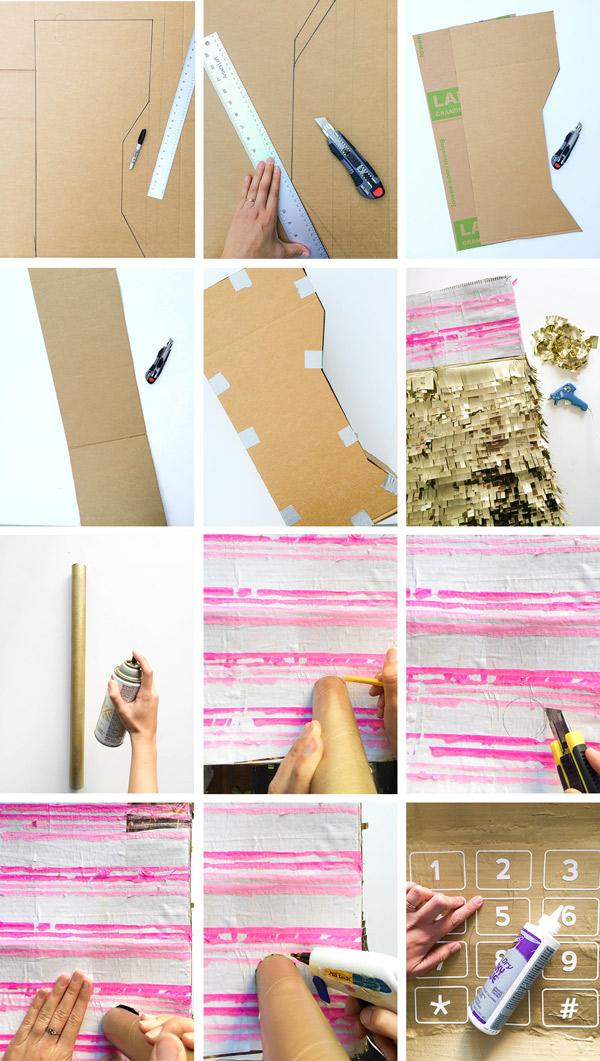 This post is sponsored by Cellular Sales.
Crafting by Andrea Ramirez
Thanks to little A & E for modeling!